IIM SKILLS vs Henry Harvin Content Writing Course Review
In this article, we will cover an in-depth evaluation of content writing courses from the institutes IIM SKILLS VS Henry Harvin. These are considered to be on the top list in the education sector. But before that, let us first understand an in-depth introduction to have a brief understanding of what is content writing and why it is important to pursue it.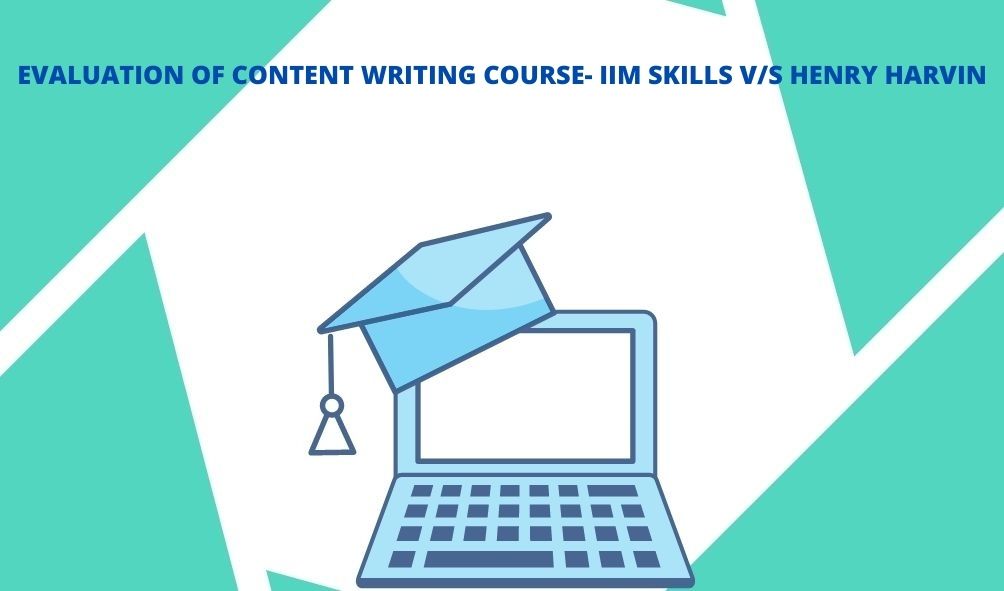 What is Content Writing?
A content writer can be described as any person who is responsible for providing valuable and different content be it for a website, a blog, for a video to be published, for a film, for a podcast, etc. Every business has a specific set of customers to be targeted therefore, the same content written cannot be used for every different business. It varies as per the requirement of the business or the clients who are been targeted.
Why does content writing matter so much to every business and why is it important to learn-?
In these modern times, it has become very important to generate new leads, maintain relations with our existing customers because this is very important for self-growth as well as for the organization's growth too. After the passing times of printing advertising, writing effective content keeping in mind SEO tools, and also using different methods of digital marketing it has become very easy to create content and connect with the customers to create awareness about the products and services an organization offers.
Advantages of learning Content Writing Course-
The scope of content writing is increasing day by day. No matter what job you do or what business you are into creation of good quality content is required everywhere. Be it for a video, a blog, a website, or for sales marketing creating content helps to attract a large number of customers. Let us understand some key points to understand the advantages of learning content writing course-
After successfully completing the course and becoming a certified content writer, if we choose to work as a freelancer, it gives us more flexibility than other job opportunities as we also have an option of working from home and earn side income as well and earn more money along with the fixed income from our job in whichever sector we choose to work.
It also helps to use different techniques of digital marketing very easy for our business or even if we are working as an individual.
We also learn to stay away from legal problems by learning to write original content and learning about plagiarism as well.
It helps to improve our research skills as well. As we discussed before, a different set of content is required no matter where we work and how we work. And creating unique content is not possible on any topic if detailed research is not done. So, if someone wants to establish their career as a content writer, they should have good research skills.
When a content writer creates content, it helps them to improve their vocabulary skills as well as it makes them research a new set of words and creates an impact with their unique content.
Learning content writing in an effective way, also makes a person more creative. If a person is creative, it helps us to maintain the interest of the customers in a consistent manner.
After getting knowledge about what is content writing and its advantages. Let us study the detailed comparison between which institute to choose to learn content writing.
Also, read about the Top Content Writing Course in Chennai
IIM SKILLS vs HENRY HARVIN- DETAILED EVALUATION-
Be it IIM SKILLS or Henry Harvin both the institutes have created a great impact in the field of the education sector. When it comes to training students, whether it is a content writing course or any other course both the institutes have done a commendable job in providing training to the students in a very comprehensive manner.
Candidates who wish to enrol in a content writing course often get confused on which one to choose and why to choose that particular institute. So, let's clear the confusion ahead in this article and get a brief understanding about what the below institutes has in offer for candidates-
IIM SKILLS-
When it comes to learning an online course in our career ahead then IIM SKILLS is an institute which any candidate can choose without any second thought. They provide training in a very comprehensive manner and focuses more on practical approaches rather than a theoretical one. IIM SKILLS came into existence almost 6 years ago. Its presence is almost in more than 23 cities which is a very large number.
Let us know about some of the key highlights of the Content Writing Master Course from IIM SKILLS-
It provides very comprehensive training to the students enrolling for it. The course comprises of total 4 weeks of live classroom training. This means students get a more practical approach on how to implement content writing after completion of the course.
Students get an opportunity to undergo 60 hours of practical assignments. Four weeks of live classroom training is further divided into 16 hours of live lectures wherein students get to ask if there is any doubt or query.
Students enrolling for this get free tools worth Rs 35,000 which is very important in learning content writing and implementing the same in real life without any hassle.
They are also been provided with an opportunity of more than 10 hours of internship lecture. Along with freelance opportunities as well as a dedicated placement cell too which provides lifetime guidance to the students as well.
After completion of the course students gets a master certification from IIM SKILLS and also get an opportunity of getting certification from HubSpot as well whose importance is worldwide.
Some of the key benefits of enrolling in IIM SKILLS for content writing course are as follows-
The opportunity of a three-month guaranteed internship opportunity.
Lifetime support from the trainers who provide training during the course.
Guidance to develop a suitable portfolio whether a candidate is going for a job or freelance content writing.
Chance to publish their first E-book on kindle and publish it as well.
Write your first E-blog for a brand like TIMES OF INDIA.
Chance to publish your first press release for famous online portals.
There are different types of content which are been taught like, how to write a press release, how to write an email, a product description, how to write a description, a description of an advertisement.
Students are also been taught about how to write articles, blogs, how to create content for writing your first E-book, go for business listing, Ad's copy, press release, and also go for press release too.
Some of the key takeaways after enrolling for the course of content writing from IIM SKILLS are as follows-
Students enrolling get a regular habit of writing.
Learn to be more creative and be a confident writer also.
Learning about different methods of web writing.
Learning about different styles of content writing step by step method.
Understand the importance of creating headlines and create different types of headlines every time.
Learning how to create content keeping in mind search engine optimization and create plagiarized free content.
Content writing course also helps to enhances communication skills and create content as per the requirement and create a strong impact on the clients.
It guides us to take the internship opportunity first and then go for a job or a freelance opportunity.
Also, different types of case studies are also given to the students such as Affiliate marketing, Content marketing affiliate campaign.
Different types of modules which are covered are Web development, social media marketing, Search engine organization, content writing, etc.
The fees of the course are INR 14,900+18% GST. As per the historical data, students who have successfully enrolled for the course and completed the course also have been successfully hired by famous agencies who have also developed their careers as content writers.
Therefore, enrolling in content writing courses not only enhances our creativity skills but helps in every nook and corner of the industry no matter wherever we go to work whether as a freelancer or a full-time employee. And learning from IIM SKILLS is an add-on advantage to it because even after completion of the course lifetime guidance is provided by the institute.
Not only this during the course period whatever lesson we learn we get lifetime access to the LMS also so that we can refer it at any point of a given time whenever we feel there is a problem in moving ahead in our career. Also, free tools which are provided are for our benefits only and can be used for a lifetime, which is used for creating websites and publishing our articles there and create our presence amongst all the other content writers in an industry.
HENRY HARVIN
As mentioned earlier, Henry Harvin also comes under one of the top reputed institutes when it comes to providing content writing courses. And not only content writing but it also provides training for many other courses as well such as copywriting course, technical writing course, digital marketing course, and many other online courses too. It gives a hand- on experience to the students enrolling for it so that it gives practical experience to the candidates who are going for this course from Henry Harvin.
Let us study the key highlights of the content writing course from Henry Harvin in a detailed manner-
Henry Harvin comes under one of the top-ranking institutes. This means that any student enrolling for the same does not have to worry about the reputation of an institute.
The curriculum provides with an opportunity of learning a type of course which is defined as 9 in 1 course. That means that in 1 course we get 9 benefits altogether. Nine benefits that are provided to the students enrolling for it include Training, projects, internship, certification, placement, E-learning, boot camps, gold membership, Hackathons.
Learn 30 different types of content which include-
Business writing
Technical writing
SEO writing
Book writing
Writing for blogs etc.
Students enrolling for this course get a chance to become content writing specialists and creates an ability to write top-notch content and also get a chance of getting projects from abroad as well and earn more apart from the permanent jobs they acquire.
The biggest advantage which is given to the students is access to LMS through mobile phone as well which becomes very easy for them to go through the classes they have attended at any given point of time. Also, they have an option of accessing LMS through a laptop or PC too as per their requirement.
Let us study some of the key factors which are provided in 9 in 1 course below-
36 hours of live classroom sessions as provided.
They undergo practical live assignments as well.
Guaranteed internship opportunity after course completion.
Gets master certification from the institute which is globally recognized too.
100% placement guarantee
Get a facility of learning through an E-learning facility
Gets free access to Ask henry Hackathons
The opportunity of getting 1 year of gold membership.
Some advantages of getting a 1 year of Gold membership are as follows-
Getting access to an E-learning facility
12 months of free boot camps sessions
Guaranteed internship opportunity with Henry Harvin or other leading companies and institutes.
Getting regular notifications of the job opportunities available every week so that it becomes easy for the students to apply
Some major perks of membership include a complementary module to learn soft development skills along with a content writing course with no charge at all.
Some of the key takeaways from this course are as follows-
32 hours of comprehensive training
Globally recognized certificate
1 year of gold membership.
Monthly Bootcamp sessions
Comprehensive study material
Lifetime access to LMS.
Recorded video of all the sessions
100% placement and internship assistance.
Add on benefits like training on how to write E-books, for websites and deliver projects to the clients on time.
The top 10 benefits of learning from Henry Harvin are as follows-
Learning to write more than 30 modules.
Developing skills to write and present yourself effectively.
Getting a chance to experience how a professional content writer works as per the industry standards
Developing essential communication skills in case the client is an international one.
Learning about all the technical skills in brief to create websites.
Developing graphic skills and create presentations and logos for the client.
Developing research skills so that one can write on any topic if given.
Building effective content strategy and write content so that the right set of customers are been targeted.
Learning how to use and enhance freelance projects from clients based out of India as well as abroad too.
The curriculum structure of the content writing course includes-
Language skills
Internet skills
Content strategy
Technical and writing strategy
Email writing
Stimulated projects
Resume writing etc.
Henry Harvin tends to focuses on comprehensive training and more on practical aspects of content writing and giving lifetime guidance to the students and taking care of their placement cell as well. With all the above advantages mentioned above, it becomes very easy to become a content writer and apply different techniques in various sectors of industry.
Be it any industry finance, media, entertainment, sports, technical, health content writer is required in each and every sector. To promote your brand and service it is very important to attract customers as per the target which has been set. Their role is very important as they play a very vital role in creating awareness amongst the brand of the company and also developing in the growth of the company as well as self -growth too. Along with the growth, money earned is also sufficient so that the students get to learn a lot. So, it is a very efficient skill to learn.
Conclusion
Coursenearyou as an organization is very well versed with the industry standards when it comes to content writing. We feel both the institutes are doing exceptionally well in their field to provide the best training to the students enrolling in their institutes. But as per my suggestion, I would recommend someone enrolling for a content writing course should opt for IIM SKILLS.
The reason being this institute gives certification which is valid internationally as well wherein in Henry Harvin certification given is valid only to certain job requirements. IIM skills offer lifetime access to the sessions wherein we don't get an opportunity to get this access in Henry Harvin.
Tools available in IIM skills help to create different types of content wherein a tool available in Henry Harvin helps only for limited projects and assignments given to students. Therefore, if someone wants to enroll in a content writing course should go for IIM SKILLS and enroll in a demo class.
Going for a demo class helps to decide which option is the best to enroll for the course. As per my experience, IIM SKILLS is the best option to choose for a content writing course and another course as well.