Top 5 GST Certification Courses in Noida With Placements
Taxes, in any form, are the complexity that any human being has to face. To make it easy, the Government introduced "One Nation, One Law."
Soon enough, institutes came up with GST courses to make it more understandable as well as increase the job opportunity for people. If you are looking for GST certification courses in Noida, then you are in the right place.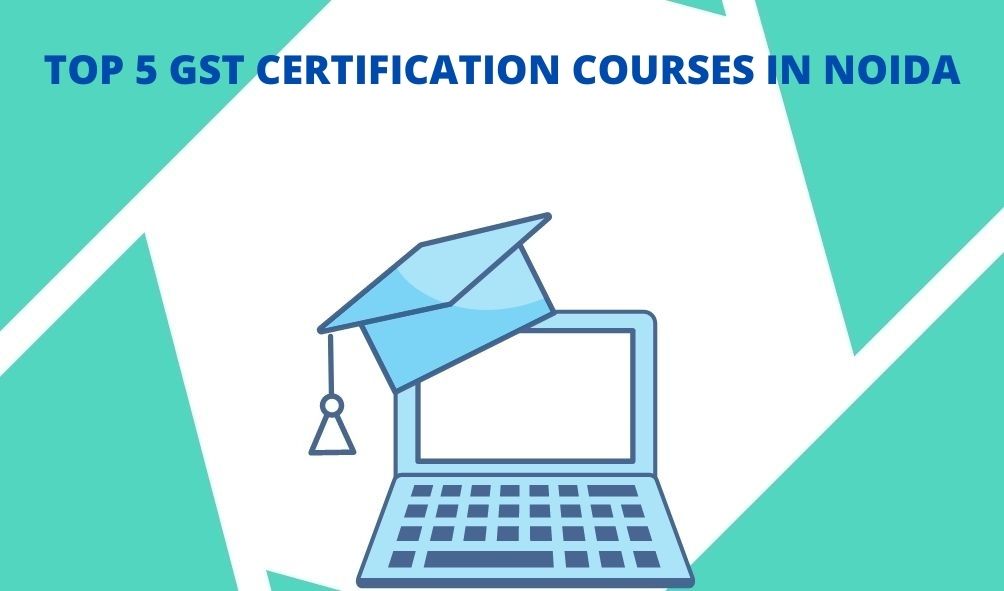 GST is the most ambitious indirect tax reform in India's post-independence history. Introducing a single national uniform tax, replaced many central and state taxes and made India more of an integrated market. It has also opened doors for professionals looking for jobs that have high demand in the market.
In this article, we will help you declutter among various GST certification courses in Noida and provide you with the best guidance on certification and job opportunities.
Let's begin with the basics first.
What Is GST?
Though GST has made taxation easy, its continuous updating policies and tax structure make it complex. To understand it, we need to understand the GST system.
We have all heard of GST, but what it stands for. GST is Goods and Services Tax, levied by the Government of India, which has replaced many indirect taxes such as Excise, VAT, Services Tax.
The Vajpayee Government started the discussion of GST in 2000 and passed in the Parliament on 29th March 2017 and came into effect on 1st July 2017. So almost 17 years later, the law evolved.
GST is an inclusive, multi-stage, destination-based tax that is imposed on every value addition. Under the GST scheme, they impose tax at each point of sale. Central and State GST charged in intra-state transactions. Integrated GST charged in all inter-state sales.
GST has brought transparency to the existing businesses and lifted the complexities in the cascading taxation system and introduced common taxation throughout India. Because of the increased emphasis on GST reforms, the hiring intensity for GST professionals is at an overall high.
Why Is The GST Course Important?
GST is a new and evolving indirect tax law. Thus, it raises doubts and confusion in the minds of taxpayers concerning registration, return filing, refund claims, and other compliances.
Taking this into consideration, the Government introduced the GST professionals/ GST practitioners who, after completing the GST course, can assist taxpayers to fulfil all the GST compliance. This course will help the professional and public to understand the GST concepts and procedures to implement in organizations and institutions. Also, GST practitioners enjoy an increment of 15% to 25% in salary after the GST certification course.
Who Is A GST Practitioner?
A GST practitioner is a person authorized by the Central or State Government to perform registration, return, refund on behalf of the taxpayers.
Registration: A GST practitioner helps the taxpayer to apply for GST registration or amendment in/ cancellation of GST registration.
Return: A GST practitioner helps to prepare monthly/ quarterly/ annual GST returns.
Refunds/ Payment: A GST practitioner can pay taxes or claim refunds on behalf of registered persons.
Authorized Representative: A GST practitioner can appear before any officer of the GST department, Appellate authority as an authorized representative.
Aim of GST Certification Course
Enable the student to understand indirect taxes and taxes in the pre and post-GST era.
Understand the objective and principle of taxation and its impact on the economy.
Understand the implication of GST on taxable consumers.
Prepare them to be a tax consultant for the management of taxes, planning of taxes, tax payment, and filing of returns.
Who Should Take The GST Certification Course?
GST certificate courses are best suited for the following.
Graduates of Arts or Commerce or Engineering.
Chartered Accountant, Company Secretaries, Law aspirants, Certified Management Accountant.
Individuals moving from finance domain to taxation.
Individuals looking for a career option in taxation.
Finance professional who wants to meet their requirements in taxation.
Every industry, either it's manufacturing or services or business, all needs expert chartered accountants or financial executives who are all well versed in GST. With so many reforms, a good grip on GST can give you an upper hand compared to your peers.
GST has made the business transparent, and with reforms and all, there is always a scarcity of good and knowledgeable GST professionals. GST certification courses in Noida will help you build the bridge between knowledge and skill.
Benefits of GST Certification of Course
There are several benefits which the candidate enjoys after course completion.
It increases the number of job opportunities for an individual to find an excellent position in a reputed firm or company.
It helps an individual to set up a consultancy with specialized knowledge of GST.
It raises an individual salary by 15% to 25%.
It develops taxation, finance and accounting, and other industry-specific skills.
Demand And Career Opportunities After GST Certification Course
Every organization and business needs to maintain proper bookkeeping. For that, they hire Accountants, Chartered Accountants with proper knowledge and information about GST. As GST has different slabs for distinct divisions like Automobile, Logistics, Home Decor, Entertainment, proper accreditation with certification will help you land a high-paying job.
With a 1.2+billion population, GST has created a job shortage for different bookkeeping, fund and tax experts, accounting professionals. A GST certification course will certainly help them understand the requirements and the technical aspect of the job.
But if you are wondering whether the market has opened the door for the GST experts, then let me walk you through the development in the job sector.
First, the GST has created over 1 lakh job opportunities in the market.
Second, 50,000-60,000 jobs will also be created revolving around GST activities.
And third, it's also predicted that SMEs will lookout to distribute the work related to the implementation of GST to various accounting firms.
With the execution of the GST tax system in India, the need for a GST administrator has expanded. Many aspiring finance and accountant graduates are hoping to seek GST certification courses to dive into the field with limited capacity and contribute to the businesses.
Because of its vast scope, GST certification courses in Noida have seen an upward trend recently. With so many options available, let's choose the best GST certification course in Noida, which suits your requirements and helps you land the best paying job.
Read on to know about the Online GST courses
Now Let's Walk You Through The Top 5 GST Certification Courses In Noida
1)            IIM Skills
IIM Skills has created a name in the market for providing a top-notch online content writing course, digital marketing course, CAT training, and GST course. It is the best among all the other GST certification courses in Noida.
IIM Skills offers one of the most intensive GST courses, the master practitioner certification course. They perfectly designed the course to understand the fundamental and complex elements of the GST process with ample practical learning and online support.
The Online GST Course Includes:
16 hrs lecture and practical assignments.
Freelance opportunities.
Dedicated placement cell.
Lifetime access and 24X7 online support.
Free Ebooks, invoicing tools, and software.
Master GST certification by IIM Skills.
Recognized by the Government of India.
The Curriculum Of The GST Certification Course Includes:
The genesis and concept of GST and its impact on businesses. (Module 1)
The framework and structure of GST. (Module 2)
Registration under GST: criteria and process explained. (Module 3)
Invoicing in GST: Invoicing rules and regulations. (Module 4)
GST return filing. (Module 5)
Composition scheme under GST. (Module 6)
Reverse charge mechanism (RCM). (Module 7)
E-Way bill under GST. (Module 8)
Input tax credit & payment in GST. (Module 9)
This is one of the best GST certification courses in Noida for candidates looking for complete knowledge of GST.
IIM Skills provides the best online live classes for GST certification.  The syllabus covers the complete GST information, which starts from inception, compliance, implementation, and enforcement. The in-depth course structure helps to re-conceptualize and restructure pricing per GST.
The salient feature of the GST master certification course is that it is job orientated with a 360-degree approach to cover all the aspects of GST. The curriculum is in sync with the latest GST reform and the industry experts deliver the pre-recorded online session and with remarkable case studies for an immersive learning experience.
On completion of the course, candidates learn to start from GST registration, filing of the return, TDS compliance, how to perform GST health check up on the organization, and check the areas for contingencies. These features make the course one of the best GST certification courses in Noida.
Master Certification from IIM Skills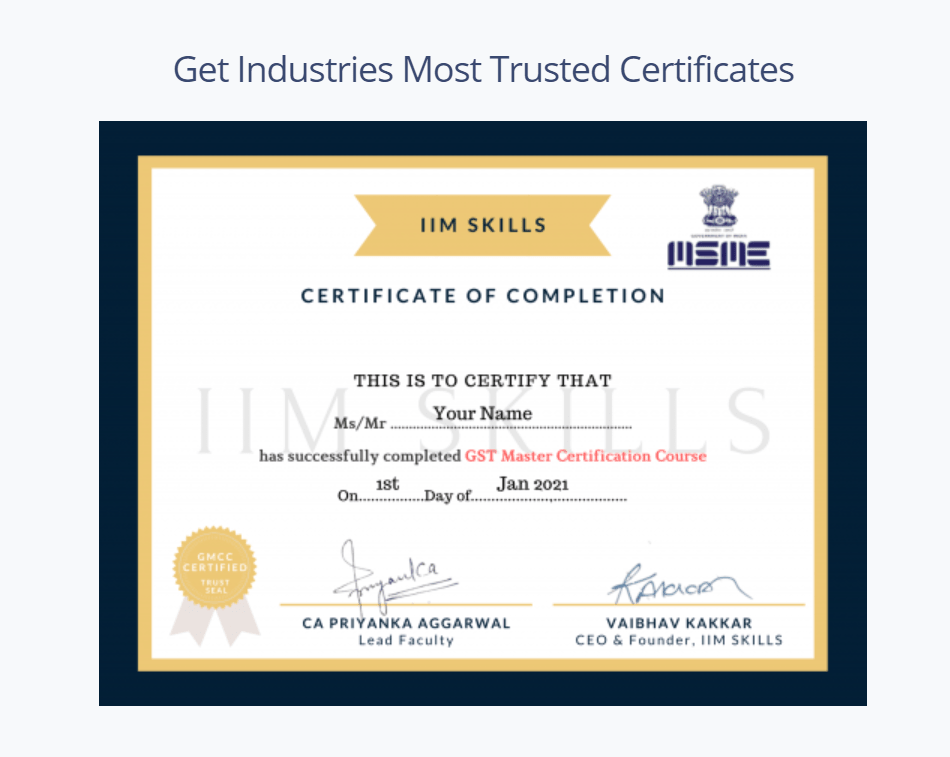 IIM Skills Brand Partners
Reviews and Testimonials
2)  ICAI
The ICAI institute is a professional statutory body, established under the Chartered Accountant Act, 1949, by an act of parliament. ICAI works under the Government of India's Ministry of Corporate Affairs. It is one of the leading institutes responsible for creating chartered accountants in India.
The institute's primary aim for the GST certification course is to enhance the analytical and problem-solving skills of professionals like chartered accountants by providing them with the latest and specialized knowledge of Goods and Service Tax.
The Online GST Certification Course Includes:
10-day course with the option to attend weekday or weekend classes.
CPE hours are 25 (on attending the class) + 5 (After appearing in the assessment test).
The Curriculum Of The GST Certification Course Includes:
Definition and concept under GST
Levy
Time of supply
Place of supply
Input tax credit
Transitional issues
Valuation
Registration
Returns
Payment
Refund
Assessment
Offenses
Advance ruling
FTP
Penalties
Ethical Practice
Overview of Goods and Services Tax
Exemption List of goods
This is one of the best GST certification courses in Noida, as it is the most recognized body. The faculty is a mix of practicing chartered accountants, advocates, and other experts of the industry in indirect taxes.
Also, find the best GST Certification Courses in Delhi
3)            GVT Academy
GVT Academy Noida is the advanced training center for GST certification courses in Noida for the best and comprehensive knowledge of GST. With the experience of 10 years in the service and the latest technology, they are helping the candidates to learn and practice on real-time projects.
They have a dedicated placement team that assists the candidate throughout its training period. The content structure provides efficient skillsets and covers all the content of the training program from basic to advanced level.
The GST training for freshers is executed as per the industry guidance. The course is designed by the experts' CA that helps in facilitating proficiency in candidates and achieving their objectives. The courses comprise an overview of GST and introduction to GST & Income Tax, E-GST on real-time projects.
GVT Academy has three different course structures with different modules, which helps the candidate to select the program as per their requirement.
      The Curriculum Of The GST Certification Course Includes:
GST- By Chartered Accountant
Basic of GST Overview of Model GST Law
Refunds Section 54-58 with GST Rules
Electronic Commerce in GST Section 52
Job Work and Composition Levy in GST
Other Topics- with GST Rules & Formats
Government to Roll Out E-Way Bill
IGST Law
        The Curriculum Includes:
GST- By Chartered Accountant
Income Tax/TDS by Chartered Accountant
Income under Various Heads
Deduction From Income
Assessments of Income
       The Curriculum Includes:
Upgrading to Tally. ERP 9 Release 6.0
Start Using Tally. ERP 9 for GST Compliance
Activating GST for Your Company
Setting Up GST Rates
Updating GST Compliance stock items and stock group
Recording Sales & Purchase returns.
Recording an Advance Receipt
They designed the module for both fresher and experienced professionals. The realistic session with a well-established module makes it one of the top GST certification courses in Noida.
Also, check out the Top 5 GST Certification Courses in Agra
4)   IPA Career Edge
IPA Career Edge is a pioneer institute of e-accounting and GST certification courses in Noida. They aim to give the students practical exposure in accounting to get the best jobs in the market.
They made the courses keeping in mind to fill the gap between formal academic education and practical learning by providing real industrial accounting training.
Besides the technical skills of E accounting, IPA Career Edge covers soft skills, interview skills, and corporate attitude during the course.
Course Structure And Modules Are:
       The Curriculum Includes:
Business Accounting & Fundamental
MS-Office Overview
MIS Excel
Tally ERP9
GST Act Overview & GST Return Filing
Income Tax Return Filing
TDS/TCS Return Filing
EPF/ESI & other Labour Law
SAP FI
Business Communication Skill & Interview Skill
SAP Co
    The Curriculum:
Taxation Transactions Accounting
Taxation Transaction Under Tally
GST Act Overview
GST Return Filing
Income Tax Act Overview
ITR Filing
TDS Overview & Return Filing
        The Curriculum:
Starting Company Info
Basic Configuration
Use of F-12 Features
Use of F-11 Features
Accounts Basic Information
Inventory Centre
Types of Vouchers
Bank reconciliation and cost center
Concept of Tax Deducted at Source and Filing
Payroll System
Advanced Final Reports Display
GST
IPA Career Edge has a team of expert professionals associated with chartered accountants, cost accountants, company secretaries, advocates, etc. With the course completion, they provide certificates. IPA Career Edge, the best GST certification course in Noida, provides 100% placement.
5)            ICMAI
The Institute of Cost Accountants of India, or The Institute of Cost and Management Accountants of India, is a statutory professional accountancy body, which comes under the jurisdiction of the Ministry of Corporate Affairs, Government of India.
The ICMAI provides GST certification courses to the members of ICMAI, CMA qualified or CMA pursuing students, CS, CA, lawyers, and executives from industries and tax practitioners. They have designed the course to enhance the skills of candidates with updated GST law.
The Online GST Certification Course Includes:
72hrs of online class
Study materials and mock test paper
Certification after course completion
Eligibility Of Course
Qualified cost and management accountants' members of CMA.
Professionals like chartered accountants, company secretaries, MBA, B. Com, Lawyers.
Tax practitioners and industry executives.
CMA qualified or CMA pursuing students.
 The Curriculum:
Constitutional Background of GST
Concepts of GST
Classification
SAC
Input Tax Credit
Refund of ITC
Returns and records
Refunds
Demand, Penalties, and Prosecutions
Job Work Zero Rated Supplies
Filing of Return
Taxable event
Time of Supply
Composite & Mixed supply
Works Contract
Exempted supply valuation under GST
Valuation rules Basic Procedures
GST Registration
Invoice and E-way Bills
Annual Return
Assessment Adjudication and appeal
Advance Ruling and Anti-profiteering
Miscellaneous Provisions
Case studies
If you are looking forward to learning GST from scratch, this is one of the best GST certification courses in Noida.
Frequently Asked Questions
1)    What is the salary of a GST practitioner?
The average annual salary for an account manager in a GST practitioner is 5 lakhs to 6.5 lakhs. Mostly, it depends on your skills and the company you are working for.
2)    How will GST certification help?
Certification will help you be well versed in your domain. It helps to develop skills for different taxation, finance, and accounting professionals. After certification, you can start your consultancy.
3)    Is the GST practitioner exam tough?
The GST practitioner exam is not a hard task, but you should know the required eligibility, major conditions, and registration process on the GSTN portal.
Conclusion
In today's era, GST has opened doors of opportunities for businesses and professionals. With so many courses available online and offline, it's required to choose the course which suits your requirements. This article's primary aim is to provide the details of GST and the best GST certification courses in Noida.
Once you are a certified GST practitioner, it will immensely help in your career growth. The certificate will give you the upper hand in the recruitment process. I hope this article will help you make the best decision while selecting the best GST certification course in Noida.
Do comment if you think this article is helpful to you.