Top 11 Digital Marketing Courses in Faridabad With Placements
 Do you want to be future-ready and market your product globally? Then digital marketing
is the key to it. Today everything is going digital. As a result, the marketing strategies are transforming as well. Digital marketing is the new way of marketing and advertising your business or products to attract the intended users spread across the world. Airing the high-held importance of digital marketing, this article unwinds the best digital marketing courses in Faridabad.
Faridabad lies in the National Capital Area and is hardly a 15-30 minutes distance from all major cities like Delhi, Gurgaon, Noida, and Mathura, making it one of the most sought-after cities. Moreover, it is a major industrial hub, so digital marketing prospects in Faridabad are massive.
Top-notch institutes offer numerous digital marketing courses to help you get the best training on digital marketing. Today, digital marketing has revolutionized the way marketing and promotions used to be. Our article on digital marketing courses in Faridabad is here, to relieve you from this tension of going from institute to institute in search of the best one.
What Is A Digital Marketing Course?
It was observed that ineffective resource utilization was one of the reasons why many organizations go awry. There was a huge gap between the industry's digital needs and the availability of skilled resources, hence digital marketing courses were designed to offer fundamentals of online marketing, hands-on training to people, and honing their skills to effectively run their businesses. These courses not only have an exhaustive program module but offer many certifications to validate your knowledge.
Career Opportunities in Digital Marketing
There are a plethora of career options available once you decide to kick start your career in this field and in the decades to come, it will keep growing. Let's check out the top career opportunities-
Digital marketing manager
Search engine optimizer
Social media influencer
Content marketer
Search engine marketing expert
Media specialist
Content creator
Video marketing
Know more about Digital marketing careers in India in 2022
Who Should Take A Digital Marketing Course?
With the rapid increase in internet users, all business owners now need a digital presence, which has created an immense demand for competent digital marketing professionals. So, the answer to the above question is "anyone." As a result, digital marketing knowledge has become a must-have skill for professionals in almost all fields.
Anyone can go for a digital marketing course, if-
You are a young organization and want to promote your business
You are a new face in the advertising field
Students
You love social media
Management or engineering graduates
People from other disciplines like humanities, science, etc., can take this course to explore new career paths. So, practically anyone can benefit from these courses and can have a flourishing business and rewarding future.
Here, we have handpicked a few top-rated digital marketing courses in Faridabad that will polish your skills and guarantee a successful career in this field.
1.       IIM Skills
Established in 2015, IIM Skills soon became synonymous with quality training institutions and is undoubtedly the best in the market. Its digital marketing course is designed so that it is a perfect blend of theory, practical knowledge, and the latest tools usage. You start as a complete novice and become a job-ready professional with these digital marketing courses in Faridabad.
Why IIM Skills?
180 hours of live training
79,000 worth of tools completely free.
Get to work on 15+ live projects
Real-world case studies
Master certification from IIM Skills
Provides personalized mentorship to the students
Free demo session
40 + targeted master modules
Top-notch trainers
IIM Skills Brand Partners 
Reviews and Testimonials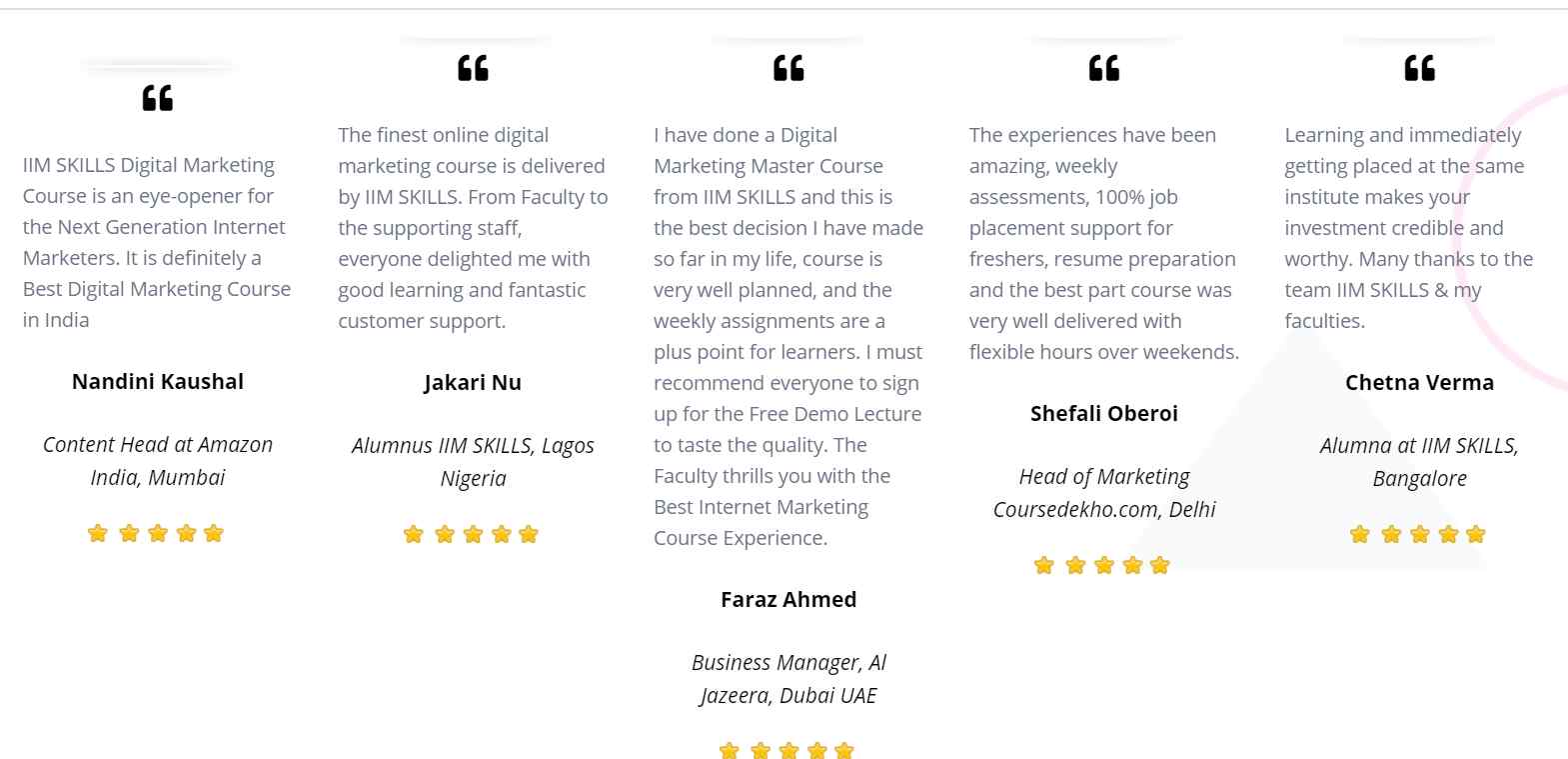 Also, read the detailed IIM Skills Digital Marketing Course review
Fees: 29,900 + 18% GST
They offer Content Writing and GST Course apart from digital marketing courses in Faridabad.
2.     Skill Circle
You can go ahead With the master certificate course provided by Skill Circle. Skill circle has experts from the industry, training hundreds of students and influencing their careers. As a result, aspirants learn the right skills and carve their niche in the internet marketing domain.
Their digital marketing course is a comprehensive course that enables the learners to understand the how's, when's, whys, and what's of digital marketing.
Key Highlights:
Effective coaching
20+ certifications
Network building
Mock interviews by hiring managers
40+ digital marketing modules covering the latest trends
Personalized resume feedback
Access to tools worth 40k
Agency style training
Mentor hours for discussions with trainers
They Offer 3 Types of Programs:
Foundation course –
Fees- 29,500
Skill degree course-
Fees –35000 + taxes
Duration- 3months
Master program-
Fees -55000 + taxes
Duration -6 months
Why choose Skill Circle
As it is claimed to be the best course to pitch in the career of millions of learners.
Your resume is added with 20 + certifications that give an extra boost to your profile and attract companies.
In-depth training on content writing, web analytics, search engine optimization, data collection, video marketing, etc.
Many centers across India.
Check out the Top 15 Digital Marketing Courses in Jaipur
3. TDW Academy
TDW is known to provide an extensive course on digital marketing. Since there was a growing demand for digital marketing courses in Faridabad, TDW started its training institute to cater to this growing demand. And they have trained more than 3000+ students and still counting.
Why TDW?
The trainers are industry experts with around a decade of experience to share.
Sessions by Google employees make their courses more practical, unique, and effective.
Provide both online as well as classroom training and follow strict Covid-19 guidelines.
Interactive seminars and interesting case studies make them a popular choice.
Opportunity to work on live/real projects.
They provide guaranteed internships, provided the performance is as per their standards during the course.
The facility of backup classes in case you miss any of them.
Learning is fun and interactive.
Tools worth 20k+ are included.
15+ certifications, including Google, HubSpot, TDW academy, to name a few.
Few important modules included in their course program are:
Website creation and designing
Social media marketing
Search engine marketing
Email marketing
Search engine optimization
Content marketing
Web analytics
Affiliate marketing
Influencer marketing
Lead generation
Know about the Top 10 Digital Marketing Courses in Mumbai
4.  Simplilearn
If you want to be an expert in digital marketing and wish to see yourself as an established digital marketer, this is the right course. Simplilearn is a market leader when it comes to providing in-depth training to learners. SimpliLearn has seasoned industry experts with knowledge on latest tools and techniques providing training on
Search Engine Optimization
Social Media
Pay-per-click
Conversion Optimization
Digital Analytics
Content, Mobile, and Email Marketing
Why choose Simplilearn:
Learning the latest tools
Work on real-life projects
Attend masterclasses from the experienced Facebook team.
Exposure to 40+ digital marketing tools
Affiliated to Top 5 digital marketing certifications like Google Ads and analytics, HubSpot, Hootsuite, etc.
Opportunity to work on 45+ projects and interesting case studies.
Find out the Top 7 Digital Marketing Courses in Coimbatore
5. WebHelpy Technologies
WebHelpy is one of the best options in the Faridabad area to learn digital marketing. They provide an excellent learning platform to the newbies as well as to the budding entrepreneurs or professionals. Learning digital marketing is exciting here as students get excellent subject knowledge and practical training as well.
Why WebHelpy?
150 + hours of training on important SEO, SEM, Content, web analytics, social media, etc.
20 + case studies and actual industry projects to work upon.
Experienced industry mentors
Proper career guidance
1:1 mentoring
Affordable fees structure
6. Digital Kal
Faridabad city has the advantage of having many industrial and developed cities around. Therefore, it has many training and educational institutes to fulfill the needs of people in search of excellent hands-on training in various fields. As digital marketing is the new buzzword, a lot of students explore the best training institute.
One such name that comes out as a leading institute providing a complete solution to all the digital marketing needs is Digital Kal. With over two decades of experience, they provide complete knowledge about the domain. Based on your requirement, education, and experience, they have different programs ranging from basic to advanced levels, so one can easily keep up with the course taken.
Why Digital Kal?
Digital Kal is registered with the central Govt. under MSME.
Provides free demo session
Lifetime access to all the training modules
Regular assignments and interactive sessions
Assistance in interview preparation.
Completion Certificate to validate your ability.
Tie up with various companies and industries.
100% Placement Assistance to the candidates
Pan India presence
A talented pool of trainers with 10 + years of experience.
Flexible timings
Well Organized content from the US.
Supports 16+ certifications
Duration for digital marketing courses in Faridabad: 2 Months for Weekday Classes and 3 months for weekend classes
7. Digital School Of Delhi
With a market presence since 2016, the Digital School of Delhi is the pioneer in digital marketing training. What makes it stand out among the rest is that it is the 1st institute to introduce dropshipping and event blogging in its course.
Why Digital school of Delhi?
It is Registered with the Govt of NCT of Delhi.
Inclusion of media binding in the course
Adept Faculty with 15+ years of rich experience
Provides both practical and theoretical knowledge
24/7 Help desk for students
8. Kangaroo Wings
Established in 2008, Kangaroo Wings has been offering digital marketing courses in Faridabad. It is undoubtedly one of the best when it comes to quality training. They have a well-organized course structure designed by market experts. So it is suitable for beginners and professionals equally.
They have been providing advanced digital marketing courses for the past 12 years.
Key topics covered are :
Digital Marketing Basic
SEO
Pay Per Click
Social Media Marketing Like Facebook Ads, Twitter, etc.
Social Media Optimization
SMS Marketing
Email Marketing
International Online Marketing
Guerrilla Marketing
Why Kangaroo Wings?
Extremely dedicated and skilled mentors
Provides tips and techniques on advanced digital marketing
Flexible timings
proper career support and guidance.
They offer a variety of courses:
Fundamental digital marketing course -10 Modules
Fees Rs. 25,000/-
Digital marketing course -26 Modules
Fees Rs. 45,000/-
Digital marketing for startups-32 Modules
Fees –Rs. 80,000/-
Digital marketing entrepreneurship program -40 Modules
Fees -Rs. 1,25,000
Duration: for the basic course
Weekend batch: 5 Months
 Regular Batch: 2.5 Months
9.      Digital Vidya
Digital Vidya has been a pioneer in digital marketing training for more than a decade now. They specialize in providing training on new-age technologies to the learners.
So far, they have trained over 38000 professionals around the globe and 24 training centers spread across India. They have official tie-ups with Google and Microsoft and have partnerships with the market leaders like Facebook and LinkedIn.
Why Digital Vidya?
140 + hours of hands-on training and assignments
60 hours of industry-based case studies
10 + industry affiliated certifications
100 + hours of interactive live classes
100% placement assistance
10+ trainers per batch
250 + placement partners
72 k worth of tools
Duration: 6 months (every Tuesday, Wednesday, and Thursday for 115 hours)
Few important topics are covered in 44 modules :
Search Engine Optimization
Search Engine Marketing
Social Media Marketing
Email Marketing with analytics
Inbound Marketing
Affiliate Marketing
Content Marketing
Integrated Digital Marketing Strategy
Infographic Resume
Facebook Marketing
10.  Digital Edge Institute
Digital Edge Institute is imparting training on digital marketing in Faridabad since 2013. They have a unique program to prepare the students for the real world.
Why digital Edge?
Google-certified impeccable trainers
Low student to trainer ratio
Doubt clearing sessions
Live project work
Free Google certificate examination assistance
  Courses Syllabus
Digital Marketing
Search Engine Optimization (SEO)
Google AdWords (PPC)
Social Media Optimization (SMO)
Content Marketing Training
Affiliate Marketing
11.  Digiperform
They are the impeccable pioneers in the digital marketing world. Its training program is claimed to be Asia's 1st award-winning training program. They have top-class trainers and up to date curriculum. Their advanced curriculum is a result of the collaborative effort of around 50 experts.
They have a modern training facility that can accommodate 70 students and have a separate discussion room.
Their training program is a perfect blend of 12 essential concepts like social media marketing
Search Engine Optimization and online advertising.
It's suitable for entrepreneurs, job seekers, professionals, or small businesses. They have trainer approximately 20,000 students and have a very good success ratio in getting a job after the training. So, they are among the top digital marketing courses in Faridabad.
Why Digiperform?
321 hours of thorough training.
Supports 15+ certifications
50 + detailed modules
meticulous trainers
variety of courses to suit your needs.
Frequently Asked Questions:
Q1 Who can take a digital marketing course?
Anyone interested in upskilling to move ahead in his career can take this course.
Q2 How much time of training do you need for this course?
One can easily learn and start earning within three months of in-depth training. But, few institutes even wrap it up in 45 days.
Q3 Can we learn digital marketing courses online?
Yes. Online training is also very popular and can be done at your own pace and within the comfort of your home.
Q4 What is the eligibility & benefits of digital marketing?
Digital marketing is a non-technical field; therefore can be learned by someone with basic computer knowledge.
Elementary Computer skills
Secondary Education
Interest in Digital Platforms like Google, Facebook, and other social media.
Q5 Why should you opt for digital marketing courses in Faridabad?
As it is a rapidly growing field and has numerous benefits like:
excellent Salary.
Exceptional career path.
creative
highly rewarding
It is the future.
Get placed in top organizations.
Conclusion:
With the rise of new technologies, the market approach is also changing rapidly. Simply put, to stay ahead of your competitors, you must be aware of the latest trends and techniques. Taking up the right course will make a difference in your career. Don't just take up our word for it. Choose the relevant course. However, the list above of the top 11 digital marketing courses in Faridabad is exhaustive and will educate you about this field. These courses will enable you to either start your work or start a journey in a reputed company. In this article, all the important aspects have been covered for you to make a wise decision.
Happy learning!