Top 7 Content Writing Courses in Bangalore With Placements
Bangalore, crowned with the title of Silicon Valley, is India's leading IT exporter. It is a major economic and cultural hub and of the fastest-growing metropolis in the nation. The IT, manufacturing, telecommunications, biotechnology, and industries sector majorly flourish in this diverse city.
With businesses moving to digital spaces to market their products and services, the skill of content writing is now gaining momentum due to its importance in aiding the marketing functions of businesses. As a result of this many people are now showing interest to learn the skill, which leads them to search for the right institute. So, let us look at some of the top content writing courses in Bangalore.
But first, let us look at what content writing is.
What is Content Writing?
Content writing simply means thoughts, actions or messages conveyed in words that essentially promote the viewers to take an action. The action could be to drop an email, visit the website, purchase the product/service, or visit the physical store.
We search every question that arises in our minds on Google, be it "coffee shops near me" or "best refrigerator to buy this Diwali", all our questions find answers on Google. Since the potential customers are on Google searching for queries, brands want to be there too for providing solutions. And not just search engines, but various social media channels as well.
Content writing then means writing quality and informational content for the online audience, but it doesn't just involve writing. Brands and businesses also have to give due importance to different types of content writing, SEO practices, website loading time, keyword optimization so that the content can reach the audience via search engines and other social media platforms.
You can also check the best content writing courses in the popular cities:
Types of Content Writing:
When people hear the word "Content Writer" the most common image that pops up in their minds is article writing. While this might be one of the careers under content writing, it certainly isn't the only one. The scope that content writing provides is huge, which is oftentimes ignored by people.
Blog Posts:
Blog posts are an essential form of content writing. It helps the brands to create awareness among the audience, they also prove to be effective in building an SEO presence, providing meaningful content to the audience, and showcasing the brand's knowledge about the current trends and industry news.
Blogs need to focus on different keywords, which need to be similar to the search queries that the audience is likely to put in the search engines. This is the very concept of search engine optimization. There are various types of blog posts that brands can put up for their audience such as, how-to blogs, listicles, company news, research, informational blogs, etc.
2. E-books
Often when you visit a website of a brand that is providing a service, after some scrolling, a pop-up screen message comes up on your screen, asking you to provide your name and email to download a free ebook, that is based on the services that the brand offers.
E-books are thus a great tool for online marketing while also building up your email marketing subscribers list. E-books can offer in-depth knowledge about certain topics that the audience is actively searching for.
At the choice of the brand, e-books can be offered as a free download, provided after the audience subscribes by paying a certain amount or published on Amazon.
3. Social Media Writing
Social media writing can attain the focus of a larger audience at a greater speed and helps to then divert their attention to things that your brand wants specific attention on. Just having a social media presence cannot be sufficient for brands, but it is necessary. Short, eye-catching posts, with a clear call to action, grab the audience's attention which can then be diverted.
4. Press Release
The press release is the type of content that makes the audience aware of any new developments in your business, launching of new products in the market, opening up of new departments, event announcements, or major structural changes such as mergers, acquisition, etc can be announced through a press release. Earlier in the physical paper format, now PRs are also published in a digital format.
5. Copywriting
Copywriting is different from other forms of mainstream content writing. It involves writing clear, concise texts about the product or services offered which will be used for marketing as well as advertising purposes. The main aim here is to reach the potential customers and prompt them to take a buying action.
These are just some of the examples of types of content writing, technical writing, SEO writing, report writing, case study writing, etc. all also come under the different types of content writing.
Top 7 Content Writing Courses in Bangalore
Online Content Writing Course, by IIM Skills
IIM Skills online content writing course is one of the most popular content writing courses in Bangalore. This course consists of 16 hours of online training but not just that, a candidate also completes 60 hours of practical assignments to fully grasp the knowledge provided in the training.
Throughout the life cycle of this course, one gets access to complimentary tools including WordPress theme, landing page creator, SEO management tool for better search ranking all worth around Rs. 35K for free.
In addition to the best content writing courses in Bangalore, they also provide the best digital marketing courses in Bangalore.
Types of Writing Students can Learn:
Article
Blog
E-Book
SOP – Statement of Purpose
Ads Copy (Copywriting)
Business Listing
Academic
Institutional
Product
Press Release
E-Listing
Product Description
Brochure
Social Media Post
Digital Infographics
Certification: Master's certification.
Internship Opportunity:  Firstly, the candidate receives 10+ hours of lecture training and also begins with 3 months guaranteed internship. The candidate receives dedicated support from the placement cell for finding internship opportunities further.
Batches:
Weekend Batches: Saturday and Sunday
Fee Structure-14,900 +18% GST
Recommend Read: IIM Skills Content Writing course Review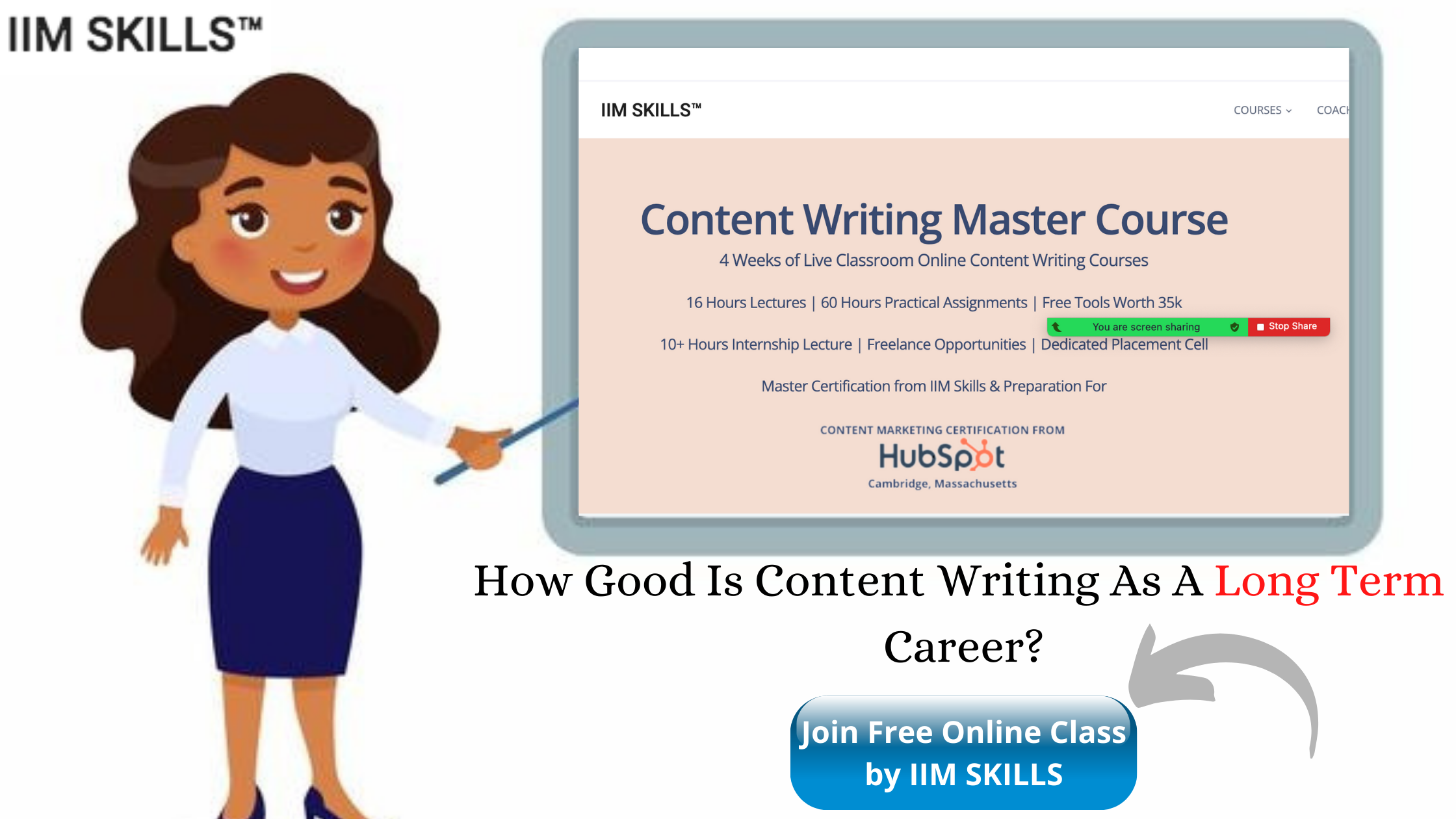 2. Online Content Marketing Course, by IIDE
IIDE's content marketing course is designed to help the students understand core content strategies and concepts and how different forms of content can be used to leverage brands to promote content. This institute provides one of the best content writing courses in Bangalore.
The course is divided into 5 modules, and the course duration is 6+ hours- with 2 hours of video lectures and 4 hours of online training. The video lectures are self-paced and the participant has access to them for 30 days. This course also introduces tools such as Google Sheets and Canva that help in the process of content creation.
Certification: After successfully completing the course, one is eligible for industry-recognized certification from the IIDE institute.
Batches: The details about the day and date of the training are regular updates on the IIDE's website. The timings for the course are from 7-9 PM.
Fee Structure: Rs. 6355/ plus taxes.
3. Digisnare
Digisnare's content writing course is among the top content writing courses in Bangalore. The content writing course at Digisnare provides an extensive curriculum about the various aspects of content writing and aims to make the students well versed in aspects such as grammar, vocabulary, content strategy, research skills. The course coordinators provide guides related to software, e-books, content creations, etc.
The Course Consists of 11 Modules, which Includes:
Basics of content writing
What to know before Writing
Blog writing
Website content writing
Proposal writing
Writing for Public Relations
Writing for brochures
Writing social media posts
Project work and career development
Advanced topics
Miscellaneous
Certification: After completing the course, the candidate is eligible for a completion certificate.
Internship: Digisnare provides 100% placement assistance and internship opportunities, while also providing additional help in resume preparation.
4. Content Writing 101, by Online Idea lab
Content Writing 101 course provided by Online Idea Lab is among the top content writing courses in Bangalore. They provide 3 levels of content writing courses:
Content Writing 101
Content Writing Foundation
Content Writing Advanced
Some of the Things that the Candidates will Learn from this Course Include:
Introduction to content writing
The role of a content writer
Traditional writing vs. Web writing
The behavior of readers on the web
Fundamental rules of writing of the web
The inverted pyramid theory
Important tools for writers
The anatomy of a blog post
How to read a blog as a writer & reader
Introduction to digital marketing
Introduction to search engine optimization
Creating SEO-friendly content
Keyword research
Ethics and content writing
Plagiarism, paraphrasing & spinning
Proofreading & editing
This course includes 10+ hours of live interactive classes, 15+ additional sources for advanced learning, live Q&A, and a final project with trainer feedback and guidance.
Fee Structure: The course is available at $199.
5. Fita Academy
Fita Academy's content writing course is among the top content writing courses in Bangalore. They provide classes on-site as well as online, equipped with trainers having 8+ years of experience in their fields. This content writing course trains candidates in preparing SEO-based content while providing complete beginner to advanced training in content writing.
Some Things that the Candidates will Learn Include:
Basics of content writing and essentials of content writing.
How to write headlines, blog drafts, rewrite and edit the blog post, and optimize the blog post.
Understanding how to write Website Content and rewriting/editing content.
Learning to write for Public Relations (PR), Media, Press, Brochures, and Pamphlets and many more.
Certification: Post completion, the candidates will receive certification from FITA academy. The course will also make the candidates competent in clearing various global certifications.
Internship: Fita academy has formed partnerships and signed MOU's with over 1200+ small and medium businesses to help you kick-start and advance your career and get a job or internship post completion of the course.
Fee Structure: For fee details and batch-related information, one can put an inquiry or call on the provided numbers, present on the website.
6. Leads Academy
The Quality License Scheme has endorsed Leads Academy's Creative Writing Course for its high-quality, non-regulated provision and training programs, and it is one of the top alternatives for content writing courses in Bangalore.
It is an online content writing course that will train students on how to use prose and leverage it effectively in writing.
This course will also provide you with a thorough grasp of how to use adjectives, adverbs, punctuation, and fundamental grammatical syntax to improve the candidate's writing skills. Classes are conducted through online mode, details of the same can be accessed through their official website.
Certification: After successfully passing the exam, you'll be eligible to get the Endorsed Certificate by Quality License Scheme, while also receiving the certificate of accomplishment as proof of your new skill. The exam will be MCQ-based.
Batches: One has to pay £12 or Rs. 1205 for getting the certification at the end.
Fee Structure: To get the certificate, one has to pay £12 or Rs. 1205 only.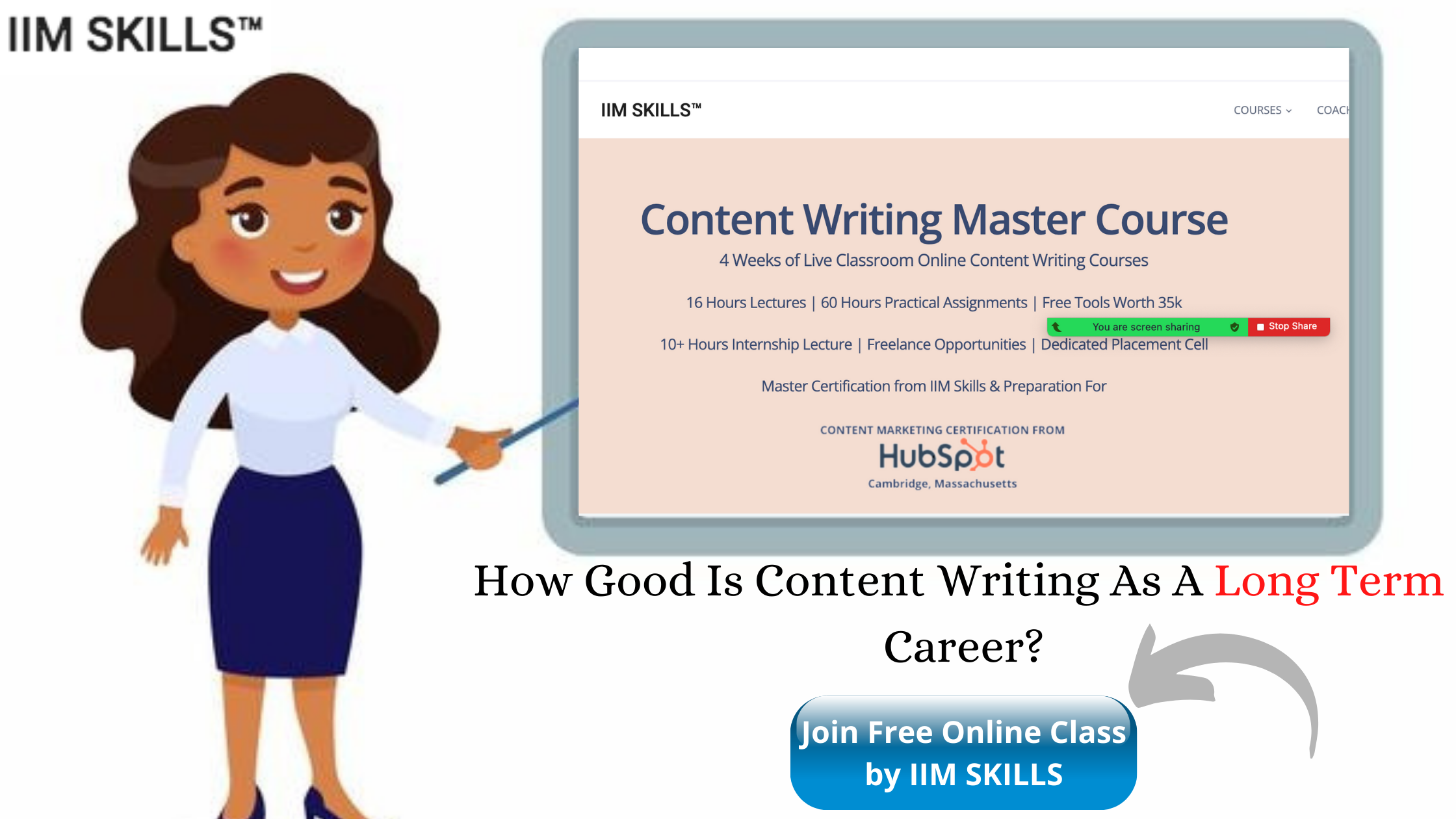 7. Inventateq
InventaTeq is the best software training institute and also provides one of the top content writing courses in Bangalore, with 100% guaranteed job placements, cost-effective, high-quality, and real-time training in various courses.
They provide practical training to their candidates that ensures effective placements. All the trainers are experts and have 5+ years of experience in the field of content. The course entails 30-35 hours of training classes, the only prerequisite for taking this course is that the candidate has to be a graduate or software developer. The course can be taken on-site as well as online.
Internship: This course provides 100% placement assistance while also simultaneously providing interview training to the candidates.
Fee Structure: The fee of the course is Rs. 8000/-.
Frequently Asked Questions
Q1. What are some of the job opportunities for content writers?
Corporate Jobs
Become a published author
Social media writer
Blogger
Freelance Writer
Q2. What is the salary for freelance content writers in India?
The average salary for content writers can range between 2-3 lakhs per annum. If you have previous experience, then the salary may increase.
Q3. What is content marketing?
Content marketing is a strategy for attracting, engaging, and retaining customers that entails the creation and distribution of relevant articles, films, podcasts, and other forms of media.
This strategy develops expertise, raises brand awareness, and keeps your company at the forefront of consumers' minds when they need to buy what you sell.
Q4. What is the eligibility to become a content writer?
Have good writing and communication skills.
There is no particular degree specialization that is necessary, people from all fields have a scope at becoming a content writer.
Be consistent in meeting deadlines regularly.
Have a piece of basic knowledge about SEO, web analytics, and digital marketing techniques, etc.
Conclusion
The above list presents a concise choice of institutes that provide the best content writing courses in Bangalore. It is important to choose the right institute which compliments your learning goals, gives you the best value for your money, while also giving you in-depth knowledge and practical learning of all the important concepts in content writing.
Before you choose any institute, you must take a demo to finally assess if that particular course suits your interests. When you're backed with proper knowledge, you will be able to harness great profits in this rising field.
Happy writing!