10 Best GST Certification Courses in Jaipur With Placements
If you are wanting to work for yourself and pay GST for yourself or want a job in the taxation department, then doing a GST certification course is for you. If you are looking for a hike in your existing financial job, then you are on the right page to know how, why, and which GST courses are a great option for you.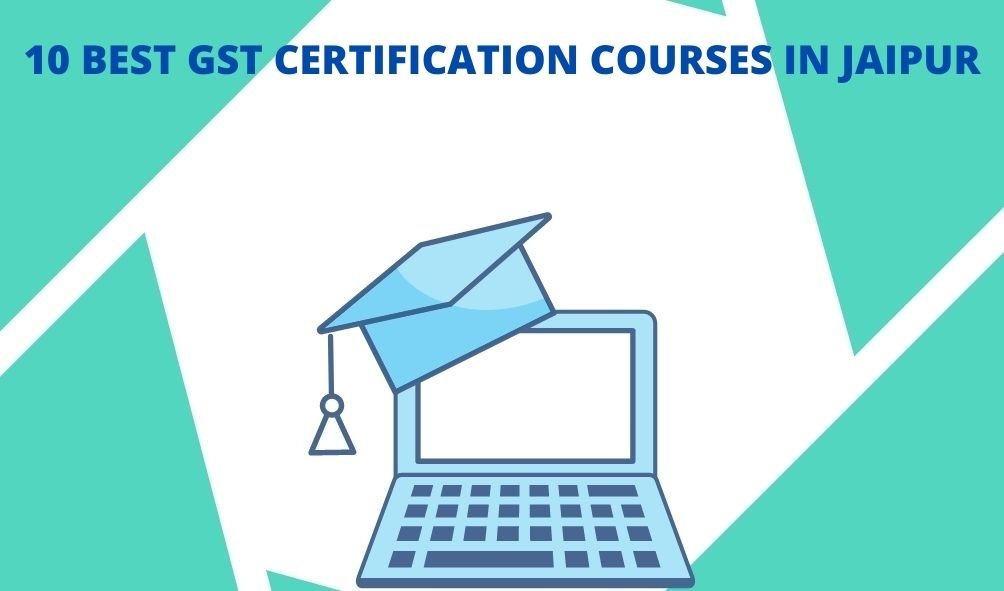 It is an indirect tax imposed on the supply of goods and services. It is paid for by the supplier of the goods or services. GST came into consideration on 1st July 2017 in India that replaced many indirect taxes.
Types of GST:
SGST (State Goods and Services Tax)
CGST (Central Goods and Services Tax)
IGST (Integrated Goods and Services Tax)
UGST (Union Territory Goods and Services Tax)
You can also take the online route with the Best Online GST Courses in India
10 Best GST Certification Courses in Jaipur 
IIM Skills is one of the top institutes for courses like GST certification, digital marketing, content writing, and Business Accounting and Taxation Courses in Jaipur. They provide these 3 courses with proper personalized assistance. Also, they offer online courses everywhere in India. So, one can have the best GST certification courses in Jaipur with them. along with several other professional courses, they can boast of having one of the best financial modeling courses in Jaipur. 
About the GST Certification Course –
16 Hours Lectures
Practical Assignments
Hands-On Learning
Freelance Opportunities
Placement Cell
Online GST Certification Course (Self Learning)
Free EBooks
Invoicing Tools & Softwares
Master GST Certification From IIM Skills
Recognized By the Government Of India
Curriculum –
Module 1 – Concept
Introduction to Goods & Services Tax
Types of GST
Determine GST liability
Eligibility
Threshold limit for GST registration
GST rate
Due dates returns
Not in scope of GST
Module 2 – Registration Process
Online Registration
Process
Issued certificate
Amendments
Surrender of registration
Module 3 – Framework and Structure
Meaning of Goods & Services in GST
Supply in GST
The taxable event in GST
Time of supply
Place of supply
Valuation of Supply
Module 4 – Invoicing Rules and Regulation
Raised invoice and charged GST
GST invoice
Bill of supply
Debit Note / Credit Note
Payment Voucher
Module 5 – Input Tax & Credit Payment in GST
Offset GST liability
Claim ITC
Modes of Payment
E-Liability Ledger
E-Credit Ledger
E-Cash Ledger
Module 6 – GST Returns Filing
Type of return forms
Process flow of return filing
GSTR1 Return Filing
GSTR2A Reconciliation
GSTR 3B return filing
GSTR9/9B return filing
Module 7 – Composition Scheme under GST
Limitation and registration of composition scheme
The tax rate under the composition scheme
Return form in composition scheme
Module 8 – Reverse Charge Mechanism
Reverse Charge Mechanism (RCM)
Taxability under RCM
Module 9 – E Way Bill
E-way bill importance
Issuing an E-way bill
They have weekend batches i.e. every Sunday from 10 am-2 pm that provides flexibility to a person to work on weekdays without the stress of managing a job and course together.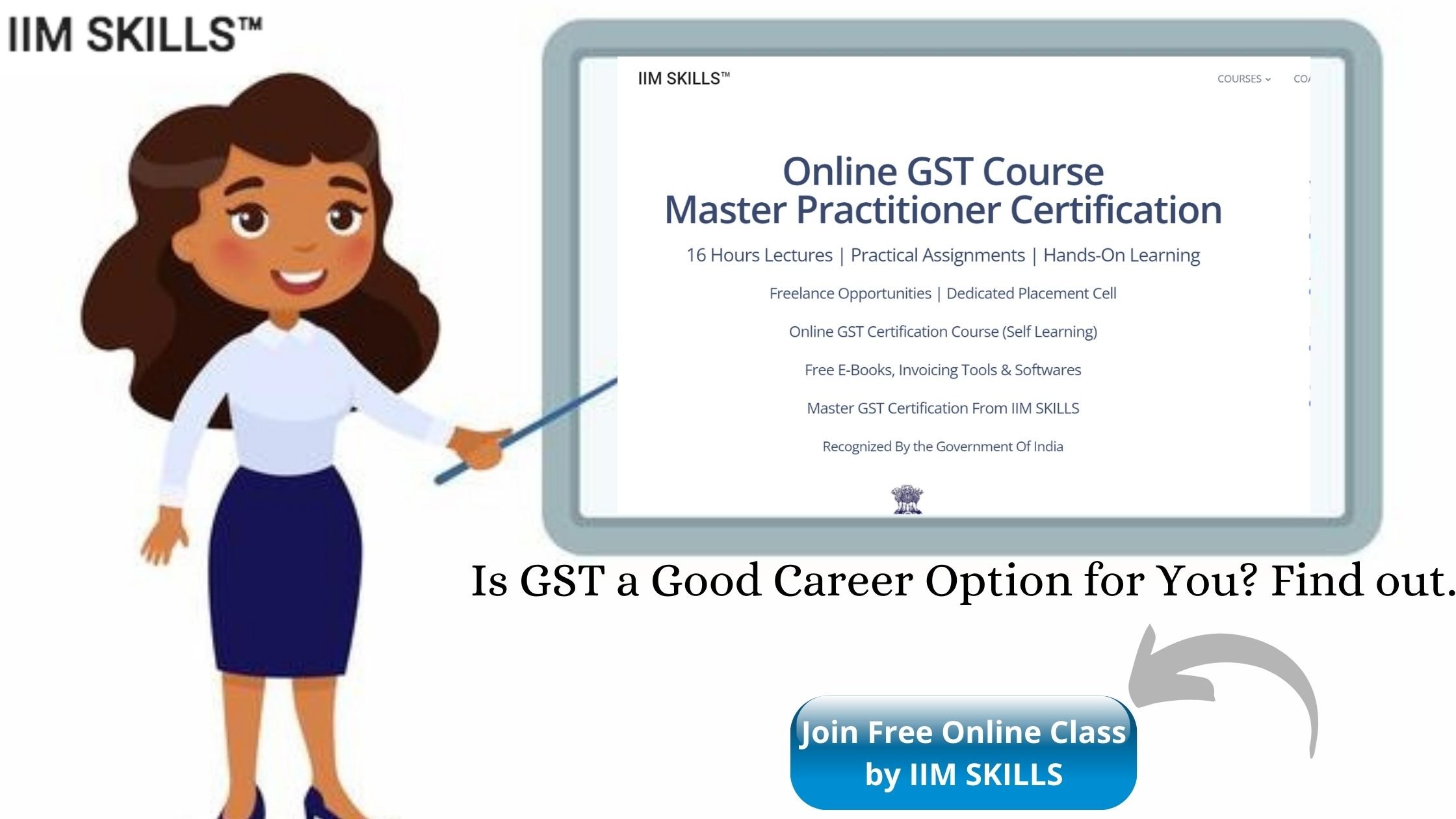 2. Taxguru Edu
TaxGuru Edu provides 3 types of courses which are 'Self Learning Certification Courses on GST', 'Self Learning Certification Courses on Income Tax', and 'Self Learning Certification Courses on Customs including Export and Import'.
They provide online tests and online certificates by Taxguru Edu. It is a self-learning course, in which you are given access to their system called LMS, where sessions are pre-recorded. It is one of the most popular GST certification courses in Jaipur.
Self-Learning Certification Course on GST – The session will be given by CA Raman Singla about various levels of filing GST and making changes accordingly.
Self-Learning Certification Course on Income Tax – The session will be given by CA. Pankaj Saraogi about legal and corporate aspects of Income Tax.
Self-Learning Certification Course on Customs Including Import and Export – The session will be given by Mr. SN Panigrahi and will be introducing new and licit implications about customs on import and export of goods.
This course is for –
CA/CS/CMA/Lawyers
Business Owners
Tax Officials
Finance and Accounts Officers
GST Practitioners and Income Tax Practitioners
This is one of the best GST certification courses in Jaipur and other cities too.
Read about the Top 5 GST Certification Courses in Agra
3. Indira Gandhi National Open University
It is the most famous University of India which offers many courses. They provide degree and diploma courses that have a lot of value in India. The GST course which they offer is called 'Awareness Course on GST'. It deserves a special mention as one of the best GST certification courses in Jaipur.
Details –
'Awareness Course on GST'
Minimum Duration: 6 Months
Maximum Duration: 6 Months
Course Fee: Rs. 3,500
Minimum Age: No bar
Maximum Age: No bar
Eligibility: 10+2 Pass
Details: This program is in alliance with the Bombay Stock Exchange Institutes Limited. This program teaches basic knowledge and skills about the GST Act. This program is beneficial for someone who has to deal in maintaining accounts and filling various indirect tax returns. For small-scale business entrepreneurs, it can be helpful. It teaches about the skills of bookkeeping and many compliance requirements.
4. CAClubIndia
CAClubIndia is an institute that helps professionals and aspirants with the knowledge dynamicity of GST. It is a certified course. The course provides knowledge about GST in theoretical and practical form. They offer online courses that are available everywhere in India. So, this is one of the best GST certification courses in Jaipur.
Understanding GST Provisions
Analysis issues in GST
Preparation and filing of types of GST
Situational Judgements
Understanding of Amendments and Implications
CAClubIndia Course Details –
Bimal Jain is the mentor of CAClubIndia and has experience of 19 years in this field and the price of the course is 6599.00 plus tax.
Hours – 61 hrs.
Expiry: 2 months or 122 hours.
Videos cannot be downloaded.
The course cannot be canceled after being purchased.
E-Book on GST
Video classes and E-Books in are English
E-Certificate by CAClubIndia
Union Budget 2021 updates
45th GST Council updates
Check out the Top 5 GST Certification Courses in Noida
5. BSE Institute Limited
Bombay Stock Exchange is the biggest institute in India that offers different types of courses related to accounts, stock, and taxes. They offer a GST certificate course as well. Assessment and certification will be done by Bombay Stock Exchange Institute Ltd post Sessions. They offer online courses that are available everywhere in India. So, they provide one of the best GST certification courses in Jaipur.
The certificate program on GST provides knowledge in the field of GST by teaching people about the application of learning the course in Supply chain optimization, accounting, tax consent, IT, and the pricing affected by the GST. This course enhances knowledge in the core aspects of tax like tax invoice, credit and debit notes, payment of tax, and refunds with demo sessions about registering GST. It is a 4 Days (20 Hours in total) program from 10.00 am. to 5.30 pm.
Session 1
Basics of GST
Nature of Supply
Value and duration of Supply
Place of supply
Session 2
Input tax credit
Registration
Online Demo of GST Registration
Session 3
Tax voice and credit-debit notes
Accounts and records
returns
GST Returns
Session 4
Tax payment
Refunds
Assessment
The Course is for –
New entrants to the financial sector
Professionals
Stock Brokers
Investment Bankers
Investors
Students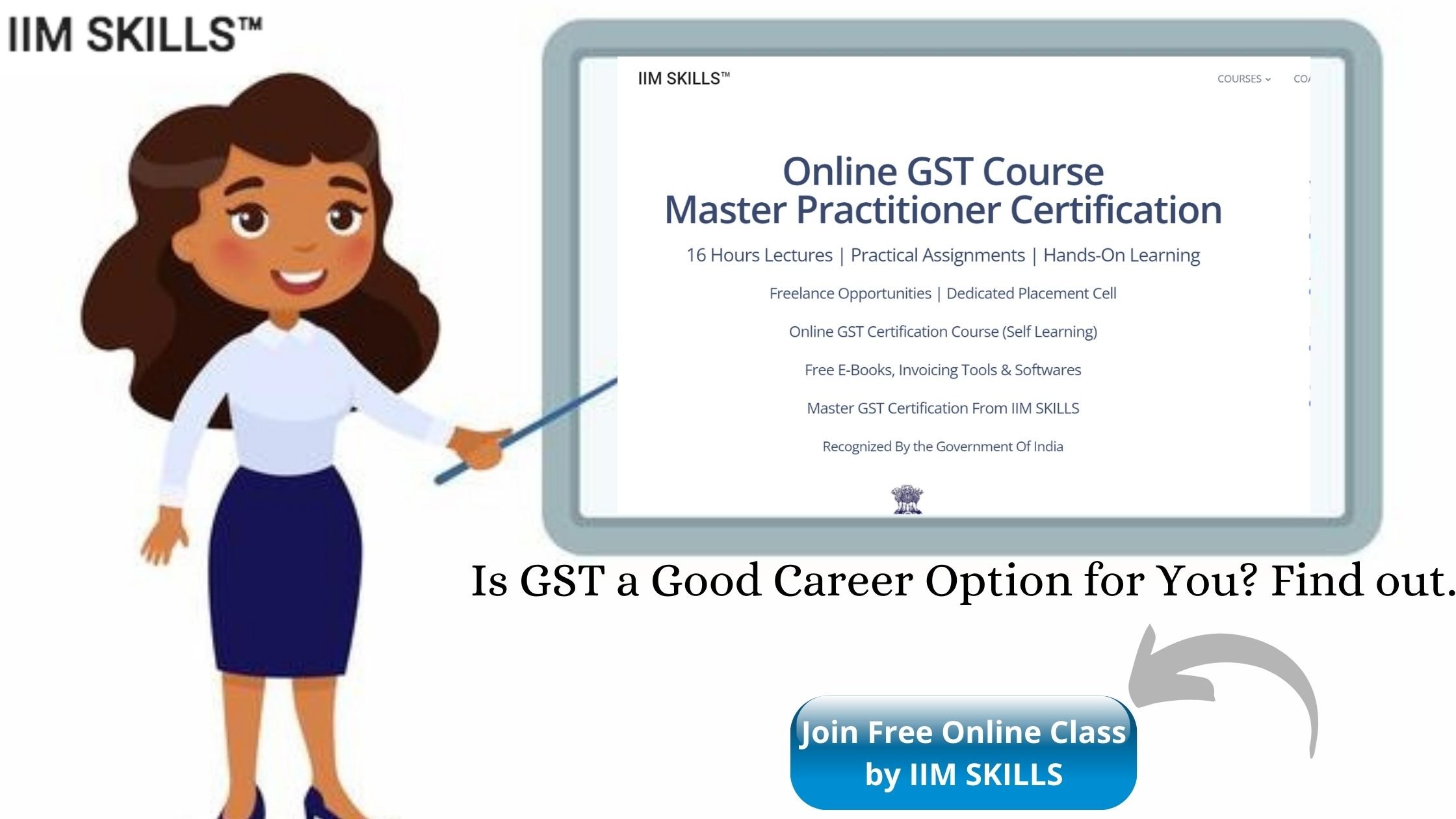 6. YMCA
YMCA is a very old and famous institute of India which provides many courses for graduation, post-graduation, diploma, degree, and certification courses. They provide certificate courses in GST as well with a duration of 3 months at 25,000 /- + GST with the eligibility of 12th pass with maths.
Introduction of GST
Levy of GST
Value, Time & Place of Supply
Composition scheme
Export and Import under GST
Documentation under GST
7. Bank Bazaar
The course provided by Bank Bazaar is the GST certification course for graduates, CA's, CS's, taxation professionals, financial professionals, and individuals looking for career opportunities in these fields. They offer online courses that are available everywhere in India. So, they offer one of the best GST certification courses in Jaipur.
Advantages of GST Certification Course
It helps in increasing salary.
It increases job opportunities.
It helps in starting one's own consultancy.
It develops skills in different taxation, finances, and accountancy details.
The duration of the GST certification course is for four days available on weekdays and weekends. Session timings are from 10:00 a.m. to 5:30 p.m., and the fee for the course is Rs.7,500 (including GST). Offers are available on UPI and NEFT. 
This course is for –
Graduates of arts or commerce or engineering
Chartered accountants
Certified Management Accountants
Company Secretaries
law aspirants.
Professionals of finance domain
Individuals who want a career in taxation
Syllabus of GST Certification Course
GST Levy
GST Time of Supply
GST Place of Supply
Transitional problems
Input Tax Credit
GST Valuation
GST Returns
GST Registration
GST Payment
GST Assessment
GST Refund
GST Penalties
GST Offences
GST Advance Ruling
GST FTP
GST Customs Duty
GST Moot Court
GST Ethical Practice
Credit Score
GST Other Pages
GST Portal
GST Returns
GST Registration
GST Rates
GST Calculator
GST Types
GST Refund Process
Tax Top Pages
Income Tax Slabs
Income Tax Return
Income Tax e-Filing
Income Tax Calculator
Income Tax Refund
Online Tax Payment
Steps to File ITR
Tax Other Pages
TDS
Form 16
Gratuity
How to Calculate HRA
Tax Exemption
Challan 280
Advance Tax
Income Tax
Income Tax Slabs
e-filing Income Tax
Income Tax Return
Income Tax Calculator
Online Tax Payment
Income Tax Refund
Income Tax Refund Status
Gratuity
HRA Calculation
How to file ITR
Tax
Advance Tax
Capital Gains Tax
Direct Tax
Indirect Tax
GST
GST Rates
GST Registration
GST Calculator
GST Returns
7th Pay Commission
7th Pay Matrix Table
7th Pay Commission Pension Calculator
TDS
TDS Refund
TDS Rates
TDS on Salary
TDS Return Due Date
Form 16
Form 26AS
Form 15G and 15H
Section 80C
Section 80DD
Section 80D
Road Tax
Service Tax
Sales Tax
Excise Duty
Property Tax
BBMP Property Tax
Karnataka Road Tax
8. Tax Professional Academy
They say that they have designed a GST Professional course by their chartered accountants to offer the best understanding of accounts and taxation profession. All theoretical and practical aspects are covered in this course from basics to a higher-level understanding of accounts and taxation field which also boosts confidence. This is one of the best GST certification courses in Jaipur.
Course Details – 
100% Practical Training
Extra practical training in CA office
Training by a qualified chartered accountant
Small batch size
100% Placement
Updated Tax Laws
Course Syllabus –
Complete Basic understanding of GST
Composition Scheme under GST Law
Maintain books of accounts
Export goods under GST Law
Claim refund of taxes paid.
Time of supply rules
File monthly & quarterly returns under GST Law
Rate of taxes
Registration
Invoices/bills
Debit note
Credit note
Receipt Voucher
Payment voucher
Claim input tax credit (ITC)
Supply rules in GST Law
Applicability of Audit
9. Udemy
Udemy is the biggest worldwide available online platform for plenty of courses and they do provide the best GST certification courses in Jaipur. The course is about the filing of GST returns and GST Basics. They provide 3 hours of recorded videos and 2 tests with which you can have lifetime access to the recordings on mobile and TV too. A certificate after completion will be given.
What will be Taught?
Primary understanding of GST – Introduction, Classification, and Categorizing.
GST registration
Letter of Undertaking
E Way Bill
GSTR 2A/2B
GSTR 1
GSTR 3B
Job Work return filing
Who can take this Course?
Business owners
Accounting Professionals
Graduates
Anyone who wants to learn GST
Benefits of Taking up this Course:
Basics of GST
GST registration
Extract data from Tally
Who this Course is for :
Professionals
Students
Any individual who wants to learn GST
10. Henry Harvin
It is also one of the most famous institutes for content writing and GST certification courses. They too provide the best GST certification courses in Jaipur as well. The details about the courses are –
About the Course –
Duration is 1-month or 32-hours live online classroom course for 4 Weekends
Training and Certification
Curriculum: The course is designed by GST experts
Based on GST law
Sessions are delivered by famous GST Experts
Certified GST Practitioner
Get e-study material. Printed material can be ordered on the request.
Post Training Assistance: People can connect with the trainer to resolve doubts
Curriculum
 Module-1
Supply & Levy
Place Of Supply
Value Of Supply
E-Way Bill
Module-2
Registration
Input Tax Credit
Transitional Provisions
Job Work
Module-3
Account & Records Invoice, Tax Payment
Time Of Supply
Returns (GSTR-1, GSTR-2, GSTR-3b, GSTR-9, GSTR-9c)
Refund
Module-4
Audits
Assessment
Offenses And Penalties
Demand & Recovery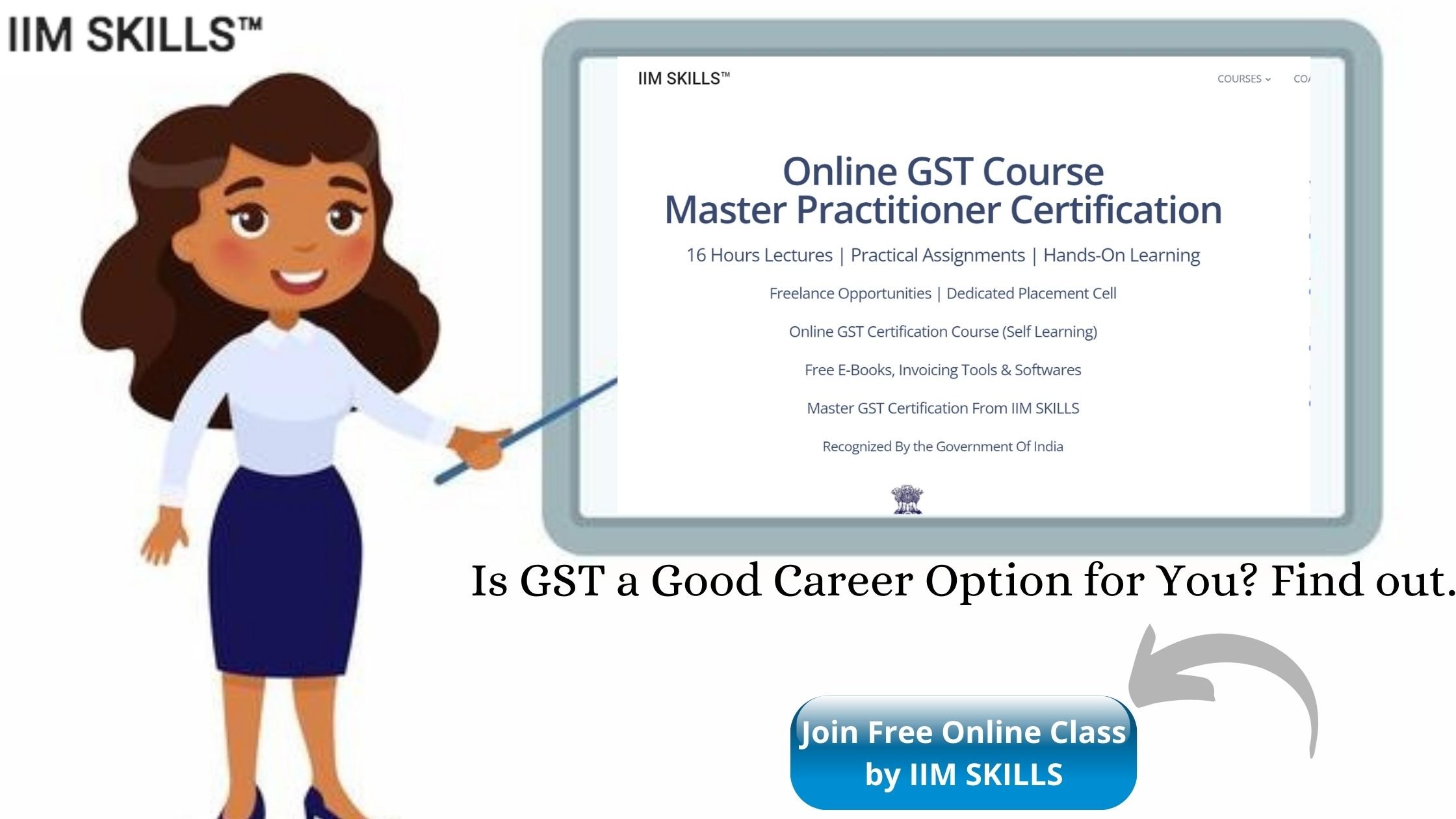 Frequently Asked Questions:
1. Who should enroll in the GST course?
This GST Course is for:
CA's
CS Professionals and students
IAS aspirants
MBA Finance
ICWA Professionals
CFO's
LLB practitioners and students
Independent Tax practitioners and Consultants
Accountants
Com / M.Com graduates
Law
Banking including Higher Auditing
Sales Tax Practitioner or Tax Return Preparer
 2. Is there any requirement of a particular background for the GST course?
No, the courses are all about encouraging people to have an understanding of the Tax system in India. Certain courses require a background in commerce but only in the case of advanced courses otherwise, basic courses do not require any prior knowledge.
3. How do I become a GST professional?
One can be a GST professional by taking GST certification courses and then practice by serving the companies or working as a freelancer for clients.
4. What is the salary of a GST professional?
The average salary for a manager in the GST profession is 40 to 50K in India.
5. What are the advantages of the GST certification course?
The major advantage of acquiring GST certification is one can perform the GST registration for themselves and if they are working in this field, then it increases job opportunities as well as salary.
Conclusion 
GST certification course is indeed a great choice of course for someone who wants to learn about GST for personal or professional use. So, if someone is working in the financial sector and wants to increase options in the taxation department.
Adding a GST certification course to your skills can help in increasing your salary. If someone is wanting to learn about GST then these are the best GST certification courses in Jaipur and in other cities as well because all of them are online.