Top 5 Prominent SEO Courses In Kochi
If you enjoy writing in any format and want to publish your content with maximum reach or have a website of your own, an understanding of how to optimize the posts for search engines is crucial. Before we proceed with the list of SEO courses in Kochi, let us first understand what SEO is and a checklist of prerequisite skills for making the process smooth.


What is SEO?

SEO stands for Search Engine Optimization, which in layman terms means, setting up your website and its content in such a manner that your reach and traffic are maximum. It is slightly tricky to understand what works exactly for getting your website in the first few pages or top results of a Google search, but if you have a good understanding of the basics then this process becomes easier for you.

What is SEO courses in Kochi entail?
An understanding of digital marketing, on-page, and off-page SEO, etc, which roughly consist of the following-
Web design and analysis 

WordPress site-building

Generating Meta Tags

Internal and External Linking

Image and Video Optimization

Using Plugins

Keyword Analysis 

Google Analytics

Payment Gateways

Integrating different tools

Building a User-Friendly Navigation

HTML Validation

Seo Friendly URL, RSS Feeds, XML Sitemap

Link Building / Backlinks

Social Media and Affiliate Marketing
The above list is not exhaustive and highlights what the courses would comprise and why one must learn the tools of the trade. 
Prerequisites before diving into the process
Good command over the language, be it English, Hindi, or any regional language you base your website on. The design of your website, even when highly interactive, does not have content that is relevant and easy to understand, will make all your attempts futile.
Flexible about constantly learning and upgrading the skill of designing your website and generating helpful content according to the progress and updates happening in the field. To be open to criticism and learning is a quality that will help you become well-informed and an expert in the area.
Editing and proofreading

. Always remember never to publish without reading, re-reading, editing and proofreading. This process can take you a day or two extra, but your goal is to make your website gain maximum reach and make it accessible, which helps you gain credibility, gain employers' trust and ultimately increase your value.
You aim to deliver well-written content that is engaging and informative so you must understand how to maintain fluidity across different platforms depending upon the deliverables, which are often decided by whom you will work, so adhering to guidelines and staying on format is the key.
Understand social media and target the right audience for your work by using visuals and infographics. Create enough value in your writing in such a manner that the presentation speaks volumes not only of you but the brand you are representing, thereby generating faith in you and your representative. The goal is to have happy customers; the reverse will adversely affect your entire career and portfolio

.
These are a few prerequisites that one must possess if they are into any form of content creation. 
Recommended Read: Digital Marketing Courses in Indore
Possible career opportunities after SEO courses in Kochi and approximate salaries
A simple search on LinkedIn will tell you that more than 10,000 jobs are available in this domain today. While the parameters may change depending on the state or country you are in, the scope remains comprehensive and available for you.
There are over 27,000 such jobs available in the USA, on this date today, for example. Here is an approximate of expected salaries for various positions falling under the domain of Search Engine Optimization-
Trainer – INR 70k/month

Copywriter – 35k/month

Web designer – 40k to 1.5 lakh

Editor – 20k to 50k/month

Marketing manager – 25k to 1.5 lakh

SEO analyst – 90k to 1 lakh

Specialist- 3 lakh to 3.5 lakh

Online research work – 30k/month

SEO Director – 2 to 3.5 lakh/month
The above-given is not exhaustive. It is there to get a fair idea of the various opportunities available and the range of salaries for a different type of work. These still fall under the same domain and give you a wide variety of areas for working in, depending on the extent of interest you end up developing. 
Your salary will also depend on your skills, expertise, and experience, whether you opt for on-site or remote work and previous experience, the city that you work in. It is essential that you decide to work to keep the salary in mind (always know your value) and your interests and passions.
If your heart's not in it, your work will not be optimum, and this will eventually affect your ability to get hired. Now, it's time to know about some of the best SEO courses in Kochi that will immensely assist you to start a new position as an SEO executive. 
List of Top 5 SEO courses in Kochi
1. IIM Skills
IIM Skills is considered one of the best institutes that offer four-week advanced SEO courses in Kochi that includes eight weeks of paid internship. The SEO course consists of over 16 hours of content with microscopic details of everything the process entails, assignments for checking progress, and additional information relevant to the field.
Their approach also includes building a portfolio by working on live projects and a master's certification. They top the list not only for the attention to detail but also for student aid for those deserving and performing to their optimal levels during the training.
Given below is a glimpse of what the course consists of-
Web designing and development

On-page and off-page SEO

Technical SEO

User interface and editing process

Keyword research tools

Google analytics

Optimization techniques

Social media tools and reach

Setting up mailers

Proof-reading 

Plugins

Generating backlinks

SEO tools

Creating a social media presence and linking for maximum audience reach
The above-given list also includes the following tools-
Google search console – for understanding rankings.

Uber suggest- Google Keyword Planner 

Keyword Finder- which is an essential tool for generating keywords based on language or location

Performance tools – for maximizing website performance.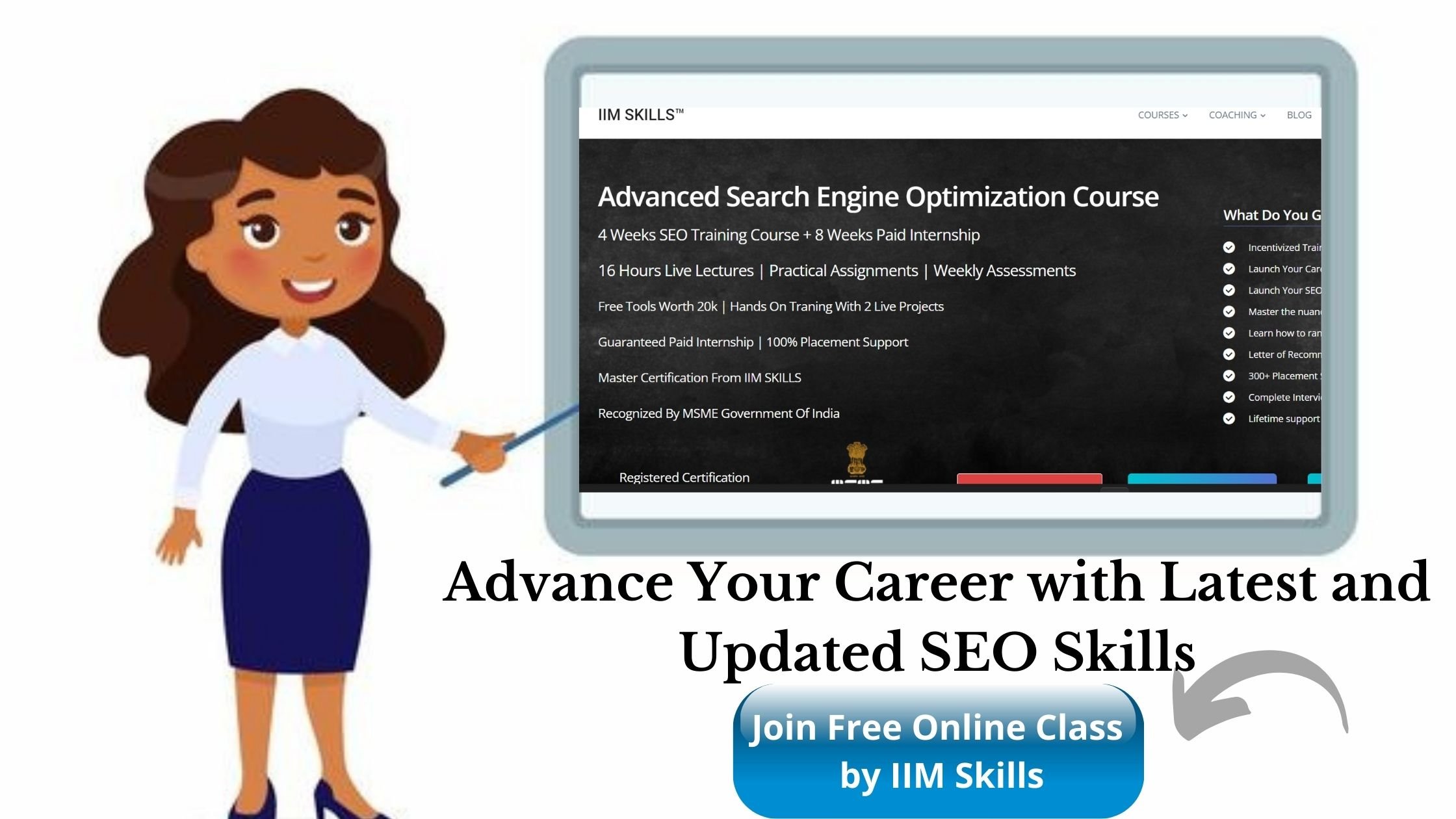 These are some of the tools you will be learning to use for best performance and project development, other than those mentioned earlier. Apart from the above-given list, their SEO courses in Kochi include a guaranteed internship and a portfolio for job applications or freelancing, whichever route you choose. This also consists of getting placed providing guaranteed placement opportunities to top performers.
All of the reasons given above make for why IIM Skills ranks number 1 in this list. The master certification is globally accredited, and you get lifetime content access and support to aid in your learning process. You are free to learn and relearn wherever, absolutely free of cost. 
Other courses
2. Udemy
Udemy, although it has several courses under the category but their Complete Seo courses Kochi, which covers –
Create targeted traffic 

Understanding the DOs and DON'Ts

8 SEO factors

An actionable list of backlinks

Strategies for optimizing the website for various search engines

How to invite organic traffic

Increasing page speed

Live examples

Technical SEO

Creating relevant content
Are there any prerequisites for this course?

It is recommended to have a WordPress website well before taking the course to install all the plugins taught during the duration of this course. 
The subscription plan to this course includes the following features –
Over 114 lectures, which make for 9.5+ hours of video content

Workbooks and e-books for practice exercise and additional readings

Exercise sheets and quizzes

Lifetime access with weekly updates 
Who is this course for?
Suppose you are a web developer, writer, blogger, business owner or in the process of starting one, marketer, an absolute beginner who is aiming to become an expert in the domain, a content creator who wants to increase their subscribers or want to rank at the top in Google or such engines, or simply looking to improve the design and format of one's website. This certification course has detailed guidelines but does not include internships or placements. 
Additional courses on Udemy-
Ninja Writing: The 4 Levels of Writing Mastery
3-Step Writing System for Blogging
Recommended Read: Digital Marketing Courses in Mumbai
3. Coursera

Coursera has a partnership with over 200 universities and offers certificate courses, a master's degree, and various other fundamentals in online learning. For SEO courses in Kochi, we recommend their Search Engine Optimization Specialization course offered by UC Davis, categorized into five parts spread evenly over five months and taught by expert instructors.
Each course is detailed and interlinked to create a comprehensive understanding of the subject. The structure, style, and content are executed keeping in mind that there are novice or beginners taking part in the learning and activities. It is designed to develop skills in students for effective reach through practical as well as experimental work.
Structure of the course-
Course 1 – introduction to the various aspects of Google SEO, how Google, Bing, and Yahoo rank your website, how people view and rate videos, and local listings. Etc Google's basic principles, how this environment changes, generating organic search traffic by using basic strategies and approaches to avoid Google penalties.

Course 2- the fundamentals of website settings, doing keyword research properly, structuring various plugins and add-ons, understanding the psychology of a consumer, and research analytics.

Course 3- the ins and outs of web designing, auditing the website and setting up appropriate content based on your website, customization, generating reports, and strategies to improve the website performance.

Course 4 & 5- social media integration, content marketing, and a case study of a website project, understanding Derwent innovation index, and patent.
4. Skillshare

It offers various SEO courses in Kochi. The course taught by Joshua George is an 89 lecture course that you can cover on the weekend. It also covers details from beginning to advanced pieces of information. The primary objective is to set up a website with page 1 rankings.
This one is on an absolute beginner level and does not involve an in-depth understanding of the tools and procedures covered in the previously mentioned courses. It also does not include certification.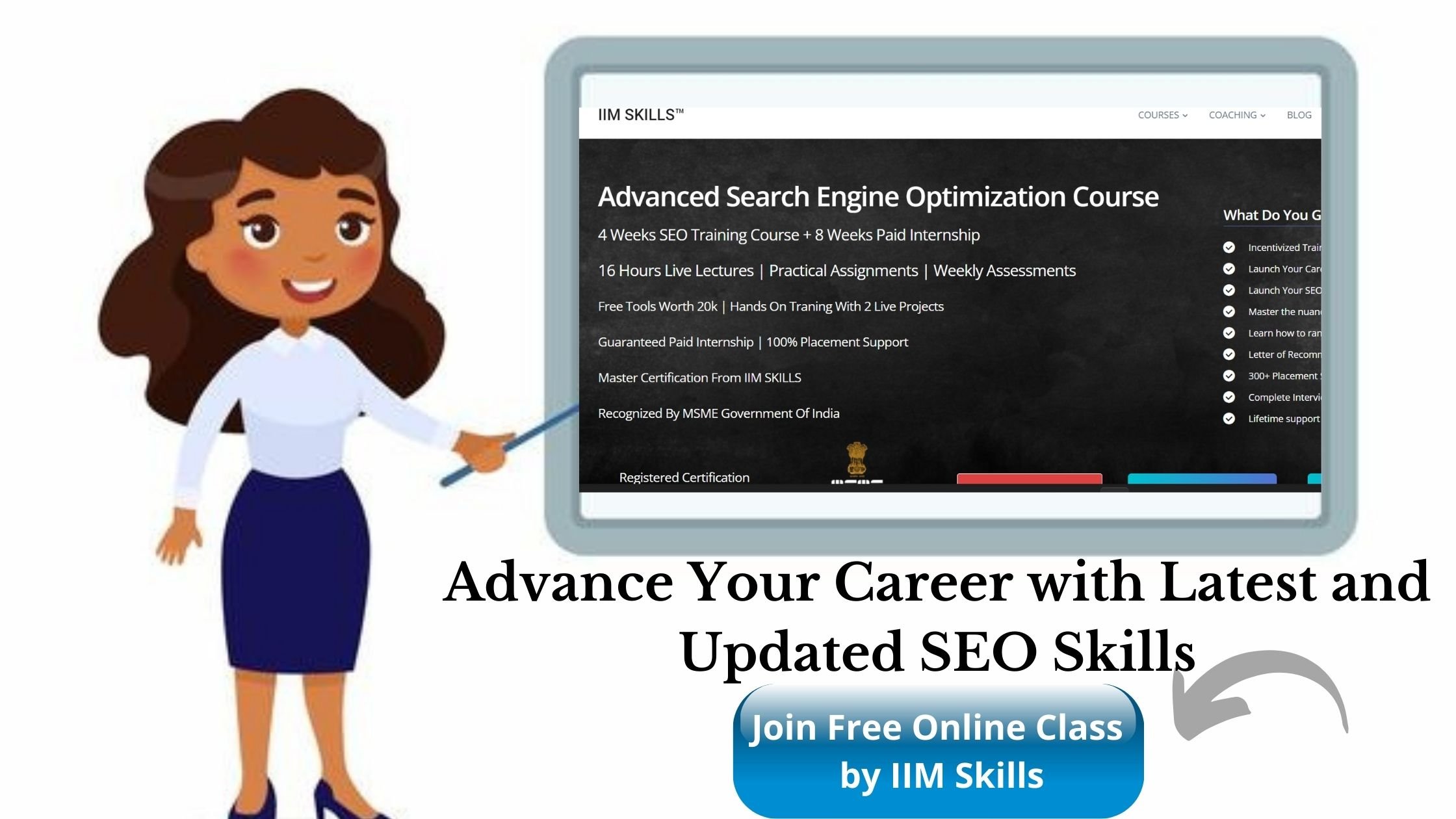 The goal is to create a sense of what it contains before you decide to invest more hours, so this course acts as a good introduction for those on the fence about deciding whether to go for a certification route or not.
What you'll learn 
Structuring and optimizing your website to have a page 1 ranking

Finding the best keywords 

Understanding the role of optimized content generation

Competition analysis

Building backlinks

Mastering technical SEO

Setting up Google analytics

Google search console 

Creating social profiles

Link building strategies

Do follow versus no-follow
Recommended Read: Digital Marketing Courses in Noida
5. Henry Harvin
They have a global reach with various courses in content writing and marketing. Their advanced SEO courses in Kochi aim at developing a comprehensive lesson for the learners. It is taught through live projects, which the participants work on during their training process.
The different techniques and methodology aim at an action-oriented approach that seeks to engage the participants in creating value, presentations, and generating ideas through group activities. The idea is to help learners gain master skills in SEO, set up site traffic, enhance the website by making it interactive and promote growth in marketing.
This course's 32 hours content is available to you with lifetime validity and is divided into nine modules along with two bonus modules. Key features include-
Introduction and business impact

Functioning of search engines

Indexing

Keyword research

Short and long-tail keywords

Grammar and editing

Tools 

On-page optimization

HTML5 usage

Website management

Creating and moving to a new domain

Webmaster tools

Identifying and removing duplicate URL

Off-page SEO

Link building

Backlinks evaluation

Building links through social media websites

Planning a new website

Marketing an optimized website

Writing content specifically for SEO

Advanced tools
Once this course is completed, Henry Harvin offers certification, which enables users to apply for various projects, internships, or dive into the world of freelancing. The institute also offers various advanced courses in a similar domain that includes advanced levels for those familiar with the basics.
This includes, and is not limited to, learning how to build a startup with a high return on investment, improving your public profile for building a clientele and database,  various simulated projects which involve case studies and solutions for data visualization, creation of a financial app, copywriting and advanced excel courses.
While some aspects of the above are covered in the basics, one also needs to learn the various aspects of developing soft skills like presentations, formal business meetings, communications, and interview preparations. All of which ultimately contribute to helping you build a solid resume.

Frequently Asked Questions 
1. Do I need a degree before pursuing this course? 
No. You need good communication skills and command of the language. Even if you do not have these, some programs offer guidance, ultimately depending on your zeal to learn.
2. Can one establish a full-time career in this field?
Yes. Ask yourself – are people ever going to run out of websites? Is that ever going to become obsolete? No. As entrepreneurship gains momentum, so does the requirement for developing reach and generating traffic, and that is where the specializations jump in, always needed, relevant and valuable.
3. Is it challenging to do SEO courses in Kochi?
It can be challenging if you have no idea about writing or the internet but everything covered in the courses detailed in this post so, the difficulty level will be based on the field you decide to join.
4. What places can one apply to work as an SEO expert?

If you create an updated LinkedIn profile with details on certification or samples of work you do, there are over 7000 available for you in this sphere right now. For more information, kindly check out the platform for current opportunities.
Conclusion

Now that you have access to so many options for SEO courses in Kochi, I strongly encourage you to pick one and start the learning process as soon as possible. Dive In and Good Luck! The world of writing is vast and glorious for those who find solace in words, and if you can relate, then you should not waste any more time.